How To Make Contact With Colleagues
Do you still believe that the resume creation process is a piece of cake? Do you still think that a resume itself means nothing, that the most important is you, your professionalism and personality? Of course, no one can argue that this is important, or even one of the most significant things for a worker. However, how can an employer know that you are good in your field, if your resume is poorly written and does not demonstrate all your best features, personal and professional? In order to let your prospective employer know all of this, you need to have a resume. And to make it really good and selling, you need to ask the specialists in the resume and CV writing field to help you. This is the purpose of our website: we help the job seekers get the job they really want with the help of an excellent competent resume! We guarantee a high-quality resume paper with the discounts and freebies, in addition. The professional resume writers cost is not necessarily unaffordable, and we are ready to prove it!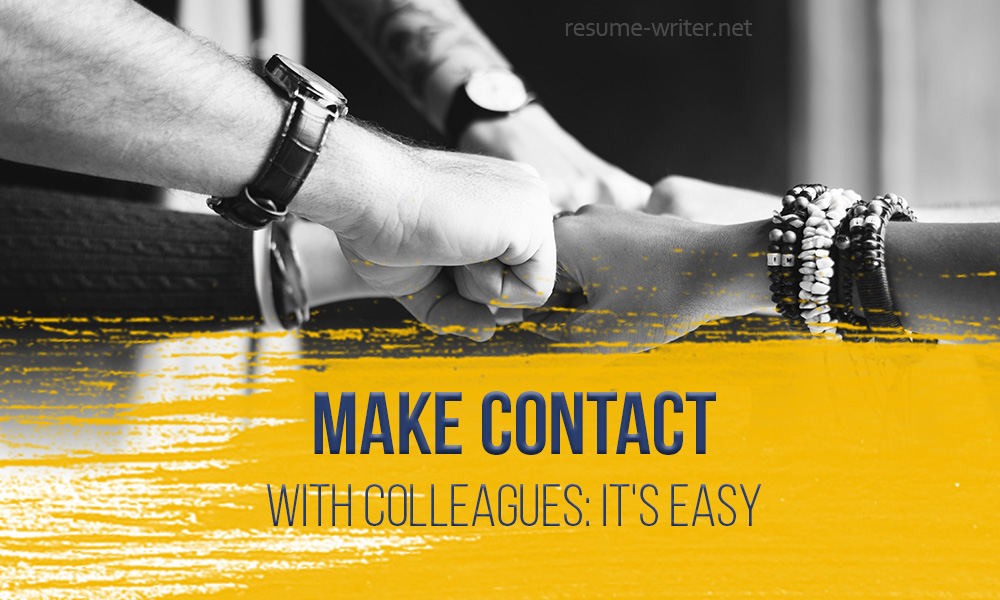 How to hit off with the colleagues in a team and communicate in the right way
Absolutely different people work in any team. They can be either friendly or evil and envious. It makes the question of how to make contact with the colleagues one of the most crucial. The fact, whether you will gladly go to work or it will be your torture, depends on it. Naturally, in the very beginning, when you have just got employed, there are anxiety and fear. It is very important to build good relationships with your co-workers at once because, otherwise, facing constant conflicts and hostility, you risk losing a job at all.
How to communicate with a team correctly
1. First, keep watch over your colleagues. Evaluate not only the general atmosphere in a team but the way they talk to each other, dress, in general, look at everyone attentively. Figure out how they have lunch, all together or separately, whether the smoke breaks are allowed, whether it is permitted to go outside (to a store, for example). You need to learn all features of a work day. Maybe, there is a dress code in a company, which you need to follow. Do not try to amaze everyone with your bright dressing, in the beginning (here are several tips on what to dress to impress an employer). It would be better to be restraint in your style. Keeping the generally set standards, you can rely on the team's support. If you do not know how to find contact with your team, find out who the leader is and try to take a close look at this person. Having gained the leader's liking, you can easily become a member of a new team because others respect and listen to the leader's mind.
2. In the very beginning of your work, you may not come too close to the colleagues and keep a certain distance. Do it until you figure out who is who in a team, what each person is; in the meantime, you need to focus on your professional qualities and make emphasis on them (http://resume-writer.net/blog/significance-of-personal-qualities-in-workplace). If you cope excellently with your duties, do everything fast and right, then, others will definitely notice this and start respecting you.
3. It would be great if you take part in the corporate events. In a relaxed informal atmosphere, you will learn much new about your fellow workers. However, be ready that you will be evaluated, as well. The one, who has occupied your position previously, will be compared with you, and most likely, they will apply to you the same stereotype of behavior that they used to apply to that person.
4. Having already worked for some time at a company, most colleagues will start treating you positively because you work well and do not conflict with others. Now you can find friends with the same interests in a team. If you go on well with the co-workers, then, you will stay in a new position for a long time and go to work with pleasure. Also, a job can bring pleasure, when it is connected with the travels. If you need to know how to travel without quitting a job, we have the answers.
Getting into a new team, every person feels not very confident and comfortable, first. Everyone around is new, unfamiliar, you do not know what their temper is, how they will treat you, etc. It is very important to know how to find contact with your team. Then, it will become pleasant to go to work. The fears in the beginning are okay: you do not want to seem a nerd or a downer but do not know yet how to show everyone how good you are in your field (with these strategies for increasing productivity you will work even better than previously). In order to make others like you, you need to follow some rules.
These posts may interest you:
The rules of behavior in a team
1. First of all, it is necessary to demonstrate a moderate curiosity about the professional activities of your colleagues to find contact with a team. For instance, you can ask for advice related to work, ask to help you with something. Most often, people like speaking about themselves, share their skills, teach and give instructions.
2. You need to be "preventative" but not too complaisant, at the same time. Do not try to do a service to everyone not to cause dislike. Besides, be curious but not too obtrusive. If you ask everyone the same questions, others will get tired of you soon and will start steering clear of you.
3. You need to be friendly but do not be familiarize. Unleash your charms, try to smile more, talking to someone.
4. If you cook well and deliciously, take to the office one of your "masterpieces". Try to "sweeten" your relationships with your team. Also, you can share your prescription for the weight loss, if you notice that someone tries to lead a healthy lifestyle.
5. Keep in mind that it is impossible to make everyone like you. So, do not try to adjust to everyone. Be yourself, do not lie, treat responsibly your work, and very soon your team will notice your positive features and appreciate all your skills and efforts. Speaking about lie and deception, it would be useful to read this article: http://resume-writer.net/blog/rate-my-resume-how-to-avoid-deception.
6. If you want to be successful at work, there is nothing else to do but find contact with your team. Otherwise, you will not manage to succeed. A worker that does not have good relationships with its team will write a resignation letter soon.
7. If you want to be treated well by your team, try to establish good relationships with the team leader. If you have good relationships with a person that is respected by all team members, they will start respecting you too soon.
Respect everyone around you, every member of your team, appreciate their qualities, and then, you will be also respected. When you talk to someone, you need to use such positive features as benevolence and affability.
Ways to find contact with the colleagues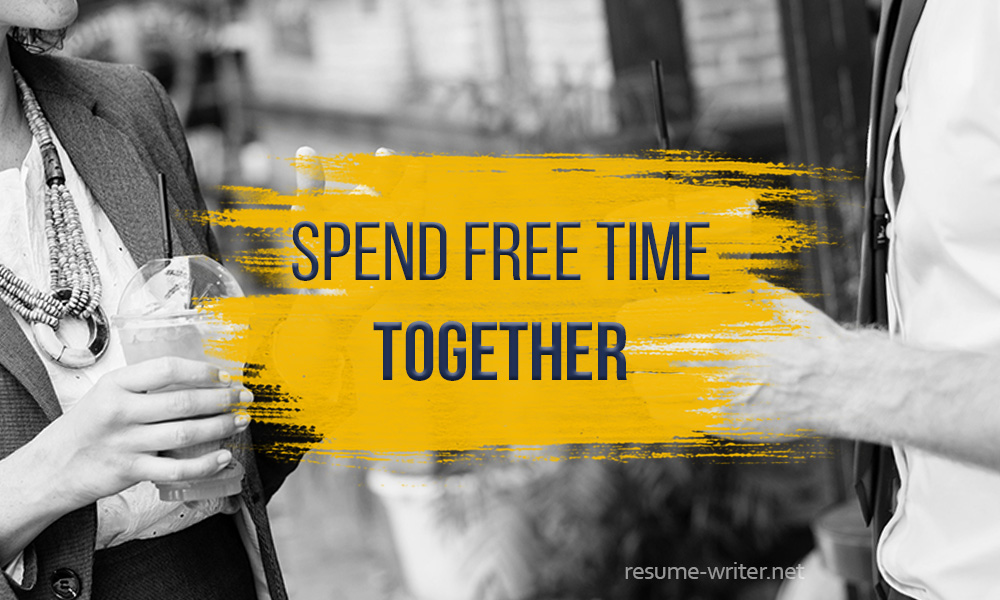 Like it or not, sometimes there is a need to change a job (if there is such a need, the key points of a successful resume will come in handy). It happens due to different reasons. One of the main reasons is the desire to grow professionally. A new organization is the new perspectives, opportunities, and a new team, naturally. On the first day at work, you get into a close-knit team, so, it would be stressful for you, anyway. To make it somehow easier many companies greet a new worker with flowers. They ask a new employee to the restaurant to have dinner together, in the big Japanese concerns. From your side, there will be a hard way of the relationships building, search for the common points because the results of your work will be much more significant, if you work with complete mutual understanding. Unfortunately, not so many people know how to make contact with other workers. Let us look at what the psychologists offer, in this case.
The first work day
The first step towards joining the team is the acquaintance with other employees. Your new boss necessarily should introduce you to others. Thus, it will be easier for you and you will feel support and interest in you and your skills. Remember that it is a myth to find contact with the workers from the first minute. On the first workday in a new company, you need to demonstrate the maximal calmness, not to worry and get focused. You need to make a good impression. A friendly smile on your face will help create the image of a pleasant person. Do not forget that it is important whether you are an extrovert or an introvert. Consider the career choices for extroverts along with the best career advice for introverts to achieve greater results.
More helpful posts:
Useful advice
Show the maximum attention to the colleagues. It will make the contact finding easier. Observe their style of work, try to understand the features of relationships between them, what unofficial rules of the game exist in this company (by the way, if you wonder how to find a good resume company, we have a really great one for you). Never allow yourself to be late, present you as a maximally disciplined person. Try to gain the image of a responsible person (if a perfect image is required, create it with our help: http://resume-writer.net/blog/fix-my-resume-guide-for-ideal-image-creation). Do not forget about your appearance. Each company has its rules and traditions. Try not to violate the commonly accepted rules. It is better to follow a business style and not to emphasize that you might belong to any of the informal groups.
Study the company work style, first of all. Do not demonstrate that you know and can do everything better than others. Do not break the rules of work accepted in a new company. Start offering your ideas and innovations later, when you get used to everything, but be careful not to attract too much attention to your personality. With time, when the team also gets used to you and starts treating you as one of its members, your offers will be easier brought to life.
Emotions and tactics
When you smile, do not overdo because the contact with your team cannot be based on flattery. Do not demonstrate excessive flattery to your new colleagues. If they feel the "fake notes of courtesy", the contact can be lost. It happens that a newcomer, in order to please everyone, helps others, gradually takes some of their duties or even all of them. You cannot let this happen. Others cannot succeed at your expense. Natural behavior, respect for your colleagues and business tone are the first and the most important features of communication in a team.
Do not overestimate your possibilities. Take the tasks that you are sure you can cope with. It will prevent you from gaining the reputation of an unsuccessful worker (our competitive resume writing services will help you succeed). Cronyism and familiarity are not appropriate for a new team. Do not begin gossiping about others. Even the most harmless assessments of other employees can cause the negative reaction. All actions will be treated with hostility. Give others time to get used to you.
Age categories
Young female employees that try to gain the male workers' attention can cause the negative reaction of a female part of a team. So, be very careful, choosing the objects for the contact establishment (read an essay that presents the sexist job interview problems). The more difficult task is the necessity to build contact with the workers of the older generation. Here you should consider that the experience they have is priceless (in case, you do not have experience, consider these no experience jobs). You must respect this. Also, take into consideration that it is established by our nature that the older people teach the young ones. That is why it can be hard for a young leader to keep the hierarchy. Probably, the only proved way to build contact with the older generation is a dialogue. Only with the help of communication, ability to hear and listen, you can expect to create the positive atmosphere in a team and mutually beneficial cooperation.
The climate in a team
The first time at work is always connected with stress and anxiety about how the adaptation period will pass, how to build interaction with the employees and how to find contact with the employer. If you wonder "Who can help me build a resume?", the answer is on our website. Naturally, the adaptation system accepted in a company plays a big role. An intelligent employer will help you fit the team and the work process. Every team has its microclimate. The process of adaptation is not always smooth and comfortable. To avoid the conflicts and adapt sooner it is necessary to answer the following questions:
1) What style of communication is accepted in a company?
2) Are there any divisions into groups inside the team? How do the groups interact?
3) What are the rules and habits about the smoke breaks and lunchtime? What can be discussed in an informal atmosphere and what cannot?
Your behavior in a new company has to correspond to the level that you lay claim to. Avoid the attempts to be involved in the discussion of someone, do not take part in gossip. Otherwise, those who have provoked the discussion will use it against you, thus, it is not recommended to communicate with the gossipmongers. By the way, here is advice on what to avoid in a good resume: http://resume-writer.net/blog/custom-resume-service-avoid-or-make-use-of.
Try not to share your personal problems with everyone (what often happens during the lunch breaks). If you have the desire to share, talk to someone you trust, so that other company workers do not discuss your problem later.
You will find contact easier if you know who has children, what age they are, etc. What pets, hobbies, interests do other workers have? Common themes for conversation will help gain the recognition in a team. Whom can you ask to help or give advice? Whom would it be better not to bother? The most important is to have patience, endurance and optimism and everything is going to be okay!
In addition, read these posts published on the blog:
How to make the colleagues like you
We are going to present another 10 ways of how to make people you work with like you. We have found out how to behave to make everyone like you.
1. On the day of the interview, passing the company halls, pay attention to what the employees wear and how they behave with each other. This will help you understand what kind of climate prevails in the company. By the way, here are several tips to answer interview questions.
2. On the first working day the employees, having looked at you, will draw their own conclusions and it will be very difficult to change their mind later. That is why make some special efforts to make these very conclusions positive.
3. By the way, speaking about the gestures and facial expressions. Your appearance should demonstrate that you are interested in everyone around you. You appreciate their opinion, you are not closed from the world (for example, do not cross your arms, when speak or listen, and always look in the eye of your interlocutor).
4. Even if you are chronically unorganized, remember that your colleagues do not know about this yet. A new job is a new chance to start over again, to change yourself or change the way other people treat you. Pay attention to your work desk, it should always be tidy and clean. Even if others do not do this, always wash up the cups you use and never be late. Thus, not only your colleagues but also you will get used to the fact that you are a very disciplined and organized person. You can even like a new "you", what will become your stimulus to keep the reputation of the neatest company employee. Be a role model for others. By the way, you can express yourself, designing your workplace: http://resume-writer.net/blog/top-designers-decisions-for-the-workplace.
5. As in any other situation that implies communication with people, the main way to make others like you is to show that you are interested in them, first of all, in a professional way, of course. Listen to their mind always, what they think about some issue, ask several additional questions, ask to share their personal opinion.
Keep in mind that people love to talk more rather than do something. This human feature can help you a lot. Even if you think that someone is absolutely professionally incompetent, let this person speak, ask for advice and spend several minutes to let him (her) feel involved in your case. After that, when all pieces of advice are announced, you can act as you want. The advice is given, this part of work is done, now you are to decide what to do with all this.
When the work contact is established, you need to make the relationships closer. For example, people who have children like talking about them. Give them the chance. A person convinced that you treat him (her) positively and with interest will easier split the work difference or take your side in some controversial situations. You need to become a person, with whom they can always share something.
We have more to offer:
6. In any team, the workers start dividing into the groups, with time. There are beautiful, smart, fashionable, nerds, cool and the employer's blue-eyed-boys. These groups, as a rule, compete and do not like each other. As you can see, in this relation, nothing changes since the school and college times. Do not be caught: regardless of how much unimportant an employee seems to you, you need to keep good neutral relationships with everyone. The representatives of all groups should like you, as well.
7. Never allow a working panic influence you. Even if this is something usual for you, control yourself. People like those who are able to maintain self-control in the crisis situations. It can be hard in a difficult moment but, if you look at different accidents that have occurred at your work, you will notice that, whatever hopeless a situation seems, there is always a way out. Being aware of this, you can become a leader, whom other employees will start following. You know that there is a solution, anyway. So, calm the rest. In order to be also calm, you should know what to delete from your resume to make it great.
8. By the way, never, under no circumstances, raise your voice. People not only do not like and do not forgive this, they also never forget about it. Sometimes you may have all reasons to "explode" but you must control yourself.
9. The colleagues want to go to the bar after work or go on a picnic on weekends but you cannot stand them any longer (after an intense work week). So, it is out of the question to waste your precious free time, talking to people, with whom you spend the whole week. Nevertheless, whatever lazy you are, whatever strong headache you have, never neglect the invitations to spend your leisure time with your fellow-workers. People who do not do this automatically "fall out" of the group and lose their reputation. So, if your next presentation is not appreciated and your idea that seems absolutely genius is not supported, this can be connected not with the quality of your work but with the fact that you do not want to drink a glass of wine after work.
10. Remember, to make your colleagues like you, there is no need to pretend (however, sometimes it can be useful, as well). Just turn your best features into your main features. They will support and help you, and an inevitable career growth expects you.
Do not miss the chance to get many useful tips: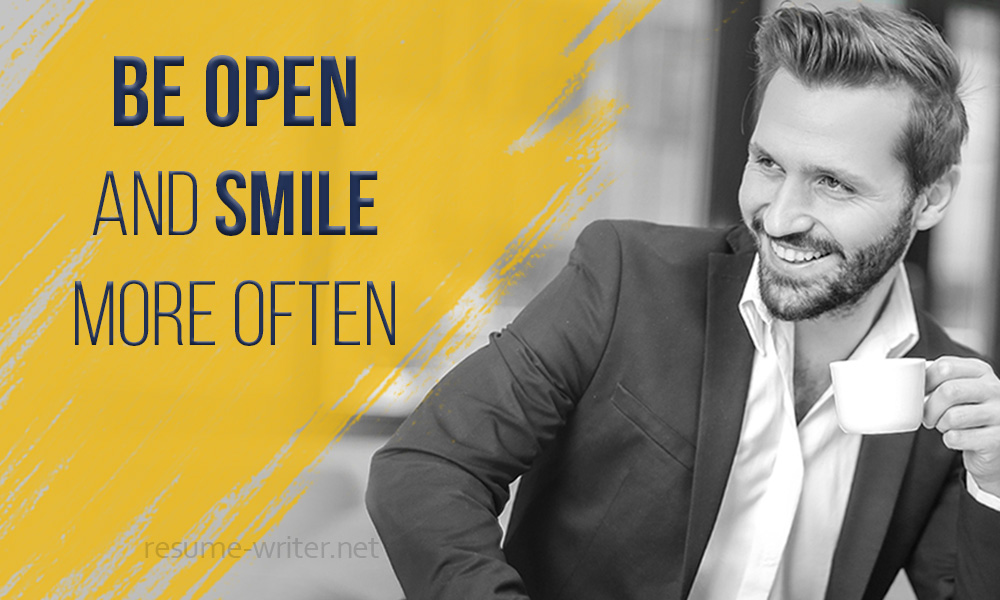 To make the period of adaption easier and gain a good reputation quicker, we have prepared the following list. All people are different and it can be hard to find contact with a stranger. The list gives some brief tips that will help do this easier.
Any job has its team. It is very important not to be outside it. It is necessary to know how to build contact with your colleagues. The fact of how much comfortable you feel inside your team influences the fact of how long you will work for a company. In case if you do not build good relationships with the team, if there are constant conflicts at work, most likely, very soon you will have to quit your job and look for a new workplace (there is no need to leave your job because our resume services help not only get a new job but also help keep the present one). Not to let this happen, you need to start establishing good relationships with the team members from the first minutes of being at a new job.
There is no longer secret for you how to find contact with the colleagues at work. The key is to be yourself and follow our advice. We know many secrets of various matters that can help greatly in life. One of the secret knowledge that we possess is how to create such a resume that guarantees 100% interview invitation. Your resume is your professional image, the first impression of you as a professional and potential worker. We know how to present you in the best light, how to emphasize your best features and turn your weaknesses into strengths. All our services have an affordable cost, discounts and freebies are provided. Visit the website to get more details.
More pieces of advice are published here: