CV Writing Service UK: Highly Demanded, Reliable And Cheap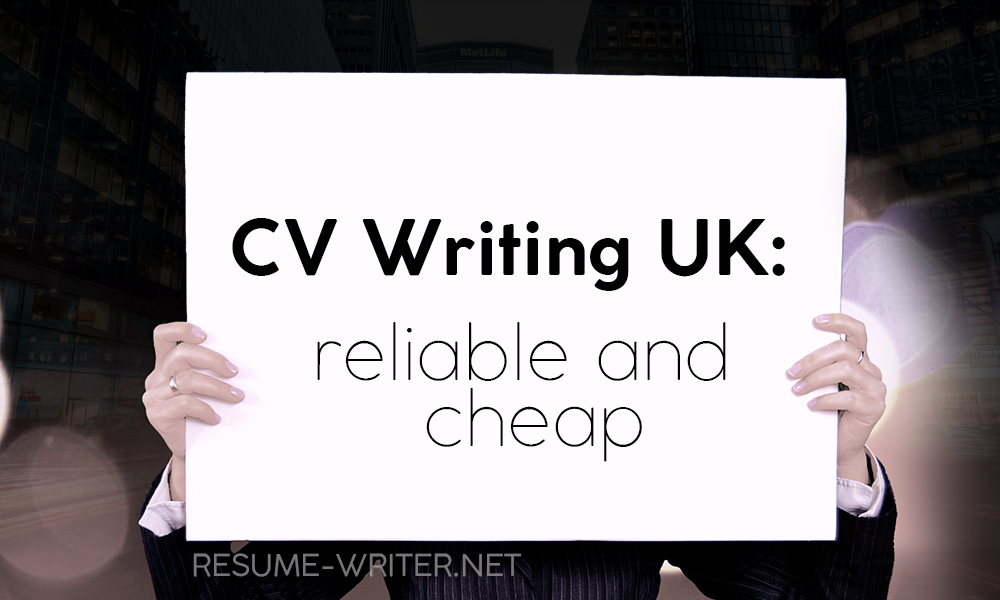 CV services UK: now more affordable
Do not believe that the selection of a CV writer is not a serious matter. You cannot choose just anyone hoping to get good results. In general, job search process is serious. Labor market does not an tolerate unscrupulous approach and often does not forgive mistakes, making job seekers wait for the work offers for months or even years. Our online agency wants to save our clients from such a fate. For this purpose we offer extra quality online CV building, correction, formatting, etc. Every job applicant needs to be aware of how to choose CV maker online, which will meet all demands professionally and simultaneously perform its work at affordable cost. Looking for work, candidates need expert support, without which work search process may last for too long. CV fixing, structuring, editing and rewriting services are what you need to create selling CV. Such selling CV is your direct way to get the desired job in the shortest time possible. Now we want to present the tips, which can be called "bad advice". This is the advice on how not to find work, or, in other words, what to avoid in work search.
Ways not to find work
Has another interview brought no result? Have you sent CV but there is no reply yet? Probably, you are doing something wrong. Let us try to figure out what mistakes are made and correct them. Of course, it is better to learn from others' mistakes instead of our own. In addition, it is often hard to see our mistakes. Our experts have gathered ten ways how not to find work. If you recognize any of it, it means it is high time to change something.
1. Format CV carelessly. Major part of job seekers is being refused at the stage of CV sending. Many of them think that a brief careless text about them is more than enough to attract employer's attention, and then they are surprised why they do not manage to attract it. This matter requires serious approach: for an employer, before the moment of personal meeting, an applicant is represented by his (hers) CV. Demonstrate achievements clearly, actualize your work experience, emphasize essential data according to the requirements of the vacancy, structure information conveniently. Do not expect that you will just be lucky.
2. Tell drily about yourself in CV. Avoid banal clichés, which many CVs maintain, do not use hackneyed phrases and banal adjectives. If there is something that can be attached to CV (work samples, sales increase graphics, etc.), attach it, do not keep it until the interview moment. It is obvious that without competently built CV work search cannot be much successful. Our professional CV writing company knows better than others how to build your "visiting card" as correctly as possible. The advice on how to buy cheap CV online given by CV writers UK will be also helpful.
3. Do not pay attention to grammar. Would you hire for work someone, who in such an important document makes grammar mistakes? Even if a vacancy does not imply text work, errors in CV are not acceptable. Check any text with the help of vocabulary, with the internet help, let your friends read it, do anything possible that can help to get rid of mistakes.
4. Look for work only by waiting for a call. Do not expect that having published your CV, the work is done, and now you just need to sit still and wait for the job offers. Look actively for the suitable vacancies, submit CV for them, call the companies, do not be afraid to remind about you. The chance that the work itself will find us is extremely small.
In addition, you might be also interested in these posts:
Help Me Write A CV: Make It Prominent For Me
Highly Professional Help With CV Is Here
CV Rewriting Will Make Your CV Worthy
Order CV Proofreading Service And Get Your Bonus
Get Professional Executive Resumes For Free
5. Be maximally modest when searching for work. Use all available means when looking for work. Tell about the intentions to your relatives, friends and just someone you know. Let them know whom they can offer to their employers, if there is a vacant post in their companies. There is nothing embarrassing in the work search process.
6. Look for the work ads on the fences. Be wary of the ads on the pillars and city walls. Good employers almost never use such ways to look for and hire employees. However, the probability of getting to scammers or unscrupulous employers is really high. Unlike such sources, for example, in the network most recruitment sites check all vacancies, so the probability to be deceived is almost zero.
7. Behave unprofessionally at the interview. Any candidate needs to demonstrate self-confidence, not to stumble upon the dialogues, be ready for any question (http://resume-writer.net/blog/several-tips-for-young-manager). Interview "run-up" should not be ignored. Keep in mind that you also need to make interviewer some questions.
8. Complain about your previous employer. More likely an applicant will be asked why he (she) has left the previous workplace, what the complaints are about. In this situation, it is not recommended at all to talk negatively about the previous employer. Try to be tolerant and do not get carried away with frankness, regardless of what situation you have experienced at the previous workplace. Just in case, be aware of the sexist interview questions.
9. Dress unsuitably for the interview. The first thing that a potential employer will notice is the applicant's appearance. Do not think that it does not have importance because you do not work there yet. Interview is a formal meeting. It does not mean that an official strict suit and a tie is obligatory, but try to avoid too contrast or bright colours, plenty of prints, flip-flops, too high hills, overly open and tight clothes, experiments with a hairdo or make up. The most important is to be neat and tidy: you need to look professionally.
10. Lie and try to look better than you are in fact. It is well-known to everyone that lying is bad. This is one of the universal life truths. Lies in CV or at the interview are not an exception. In some cases, the truth is not as beneficial as we would like. So, sometimes it is allowed to decorate the reality a little bit. However, "pure blatant lie" is absolutely forbidden. Sooner or later it will be discovered, and an employee will harm his (hers) reputation or may even lose a job. Under such circumstances, you will need our work stress managing tips: http://resume-writer.net/blog/stress-and-the-city-or-how-to-manage-stress-at-work. We would recommend not to risk that much and remain honest and sincere in any situation.
Popular demanded professional CV writing services UK
We have presented what to avoid or get rid of when looking for work. Although, these tips are really helpful and can bring much use, they are not enough to reach complete success. Labor market is very harsh, competition there is high, so it will be hard to achieve satisfying results without assistance of the specialists. Our experienced experts know what steps to undertake to make others notice you. Provided CV services will turn your CV into an outstanding one. We are capable of more together!
More popular posts:
I Create My CV With Resume-Writer Expert Team
Best CV Website Offers Affordable Services
CV Editing Services At Affordable Cost Are Here
How To Start Working After The Holidays: Work Resting