Resume Writing Help: Get Work Of Your Dream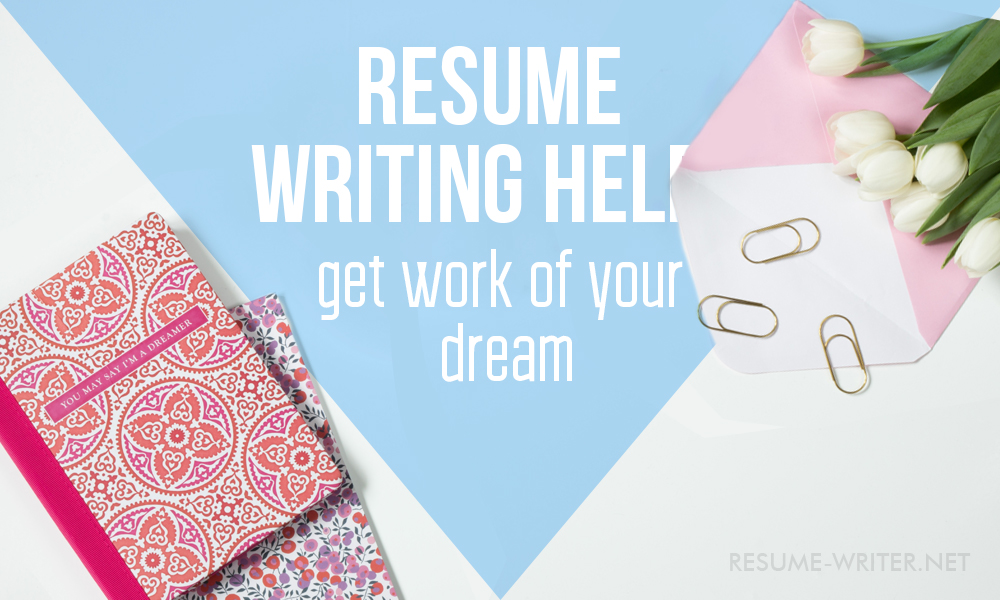 Sometimes job search process seems to last forever. Especially candidates become upset, disappointed, tired, when their hard attempts to get good job do not bring any result. We offer real help! There is almost nothing you need to do to get this help. First of all, we suggest in-house professional writers. Customer just needs a laptop or computer (or whatever else) and access to internet. Also, we suggest flexible pricing policy, round-the-clock support, along with discounts, which may be up to 20%. On our site any kind of services related to resume building or processing can be ordered. This implies resume building itself, paper editing and fixing, elimination of logical and spelling errors, correct structure, coherent presentation of logical elements, etc. Cooperating with us, our clients always get pleasant bonus and just enjoy their time. Become one of them, it is real!
Get expert help with resume writing directly from best professionals
Previously we have already presented many useful excellent tips on great resume building. Also, we discussed how to fix it, improving its quality, making it better, more costly and attractive for potential employers. We have an intention to continue sharing advice with job seekers. We also remind that all resume related online services can be ordered on our site. Users of our services have already become happy owners of their dream jobs.
1. Many points? Make them one
It is considered usual thing when one works at a company during two-three years. If a man changes work more often, word "job jumper" is used. Recruiters do not like such people, because about 70% of customers (employers) refuse to consider such candidates. This is quite logical. Of course, every person can be mistaken, no one is secure. Even an excellent resume paper may maintain a couple of workplaces, on which a man has worked about one – one and a half year. However, if whole resume has suchlike look, then its value is not high at all.
However, it also often happens that a person changes several positions at one and the same company or is transferred to another company within holding structure. Or person can work on a project, during implementation of which it may happen to change several employers. In such cases (and everywhere it is possible) we, being executive resume writer, advise to present this as one workplace with one naming and general dates of job performing. Within this part a candidate can unobtrusively show change of posts, but do it correctly, so that visually there is no feeling of often workplaces change.
2. Resume has ideal size
We, resumes writing experts, as well as other experts, believe that two pages are perfect size. One page is too little, it is allowed to students only, but three is too much. If in case of one page everything is clear – suchlike resume paper reminds beginning specialist resume, but with three, four or more pages it is not that obvious. Answer is simple: recruiter will have a glance at two pages in eighty percent of cases. Consequently, information only on these two pages will be read. So, whatever one writes on further pages will remain unnoticed. Naturally, if a candidate writes important information there, HR will not be informed about it.
3. Share achievements
If only one sentence from this post will be remembered, let it be about achievements. It adds 50% to re value at once. Any HR does not have physical strengths to interview everyone, who sends resume paper. That is why an applicant who notices accomplishments, which manage to interest an HR, always gets winning place.
Accomplishments are measured success presented in numbers, dates or significant quality changes inside a company. They necessarily need to be clear, measured, impressive and match chosen vacancy or post. For example: a) I managed to increase computers sales by 25% for three months (shop manager); b) for four months I released a new product, with the help of which company earned eight hundred dollars in six months (marketing manager); c) staff turnover became less (from twenty-five to eighteen percent) via activity with attraction of workers (HR manager).
4. Personal features are worth being mentioned
Now personal qualities of a worker get greater attention in candidates' selection process. If analyze what exactly can be measured while interview, then probably it will look like this: forty percent is professional knowledge; forty percent is personal features; twenty percent is motivation (ambitions to get this very job at particular company). Read unusual ways of getting a job here: http://resume-writer.net/blog/eight-unusual-ways-of-getting-a-job.
It includes: energy, openness, ability to work in a team, initiative, proactivity, etc. These are not empty words, because during interviews more often such a question can be made: "Tell about a situation, in which you needed to take responsibility and how you coped with it". This is called evaluation according to competencies. Read other telling about yourself interview questions, which a candidate needs to be able to give answer to.
These are reasons why personal qualities, if they match those, which are required for a vacant post, are really essential. Previously it could have been enough just to enumerate them, then now it is not enough at all. Now one has to prove possession of such qualities. That is why we recommend to present them in following form (example, of course, each candidate writes one's own; obligatory rule: they all should be real and taken from past):
Ambitious: created and realized way of problems overcoming strategy for department, when manager left his post.
Active: performance of my activities in 2016 was 30% higher than of previous year.
Calm and confident: managed to deal with a customer, who refused seven managers, and entered into a contract.
Leadership: conducted five trainings on management and grew up ten managers from ordinary workers.
Here it is essential not just to write many features, but features proved with examples, i.e. examples are more valuable than features number.
5. Throw functional duties from work description into an urn!
Functional duties mentioned in resume are usually the most banal boring thing ever. In 30% of cases they are copied from job description, in 50% - from someone else's resume or vacancy description, and only in 20% of cases candidates really write them on their own. We always advise to write duties, not zones of responsibility, and describe them as actions, which a candidate performed. It looks similar to achievements, but here numbers are not obligatory, duties may be not that much impressive, and of course they are not one time actions.
Before start describing them, we advise to get acquainted with a couple of vacancies to have imagination on what to speak about. Then write down responsibilities according to their significance: begin with the most significant (strategy development, budget planning, bringing new products to the market, etc.), and with less essential ones (preparing of reports).
Additional helpful posts in this section:
Resumes Writing Companies: Good Resume Leads To Good Salary
Best CV Writing Service: All You Need Is Here
In Search Of The Best Resumes Writing Service
Fix My Resume: Guide For Ideal Image Creation
Resume Editing Services: Great Piece Of Luck
6. Sell names of posts at companies
Posts titles, companies names are being searched for in resume first (as if a customer in a store looks for naming of well-known labels on the shelves). Basing on them, an HR forms initial cost of resume in his head, and after that only starts to search for details. Take into consideration following remarks:
1) Post title need to be commonly recognized. It happens that there exists a huge gap between position title itself and the way they call it inside an organization. For example, if a person is a head of sales department, has one hundred employees in a team (read about how to manage information on a team here: http://resume-writer.net/blog/how-to-manage-information-on-a-team), negotiates with key clients, then this person is commercial director.
2) Employees number. If an applicant performed manager (head, superintendent) job, then in brackets it is necessary to mention number of subordinates. Mentioning of subordinate employees, their quantity always makes resume more costly.
3) Company name: only generally accepted naming should be written. Its workers quantity should be also mentioned. Below company naming in seven-ten words write what it is occupied with. If organization is not popular, but has relations with well-know labels, it is obligatory to mention this fact. Such a little trich will strengthen image of an organization greatly.
7. Remove cliché phrases from Goal block
Right after contacts in resume there goes block called Goal. Usually candidates write there clichés, such as "realize potential maximally…". This block requires to enumerate what positions a candidate is interested in. Removing things from resume, one can make it really good.
8. Always check spelling
Usually about 5% of resume papers maintain errors: elementary grammar errors (absence of orthography check); mistakes in foreign words writing; errors in punctuation; in lists in the end of sentences different punctuation marks (ideally, they should not be there at all, only point after the last sentence in a list).
9. Save resume in docx format
Not PDF – many recruiters make corrections or notes in resume (salary expectations, impression of a candidate, information got during interview, etc.), in PDF format they can not do this.
Not ODT – can be incorrectly opened at some computers.
Not DOC – a sign that resume is from past (before Office 2007).
Not RTF – its size usually bigger.
10. Use convenient for recruiter name of resume file
Resume file name should consist of candidate's last name and desired position at least. It makes for recruiter more convenient to search for resume among other files, send it on, etc. Little care of recruiter will be definitely appreciated. Again, it makes resume more costly for recruiter. Additional tips for great resume will be also useful.
Other popular posts:
Best Resume Writing Service: Free From Risk
Adequate Help With Resume Writing Here
Professional Resume Writing Service: Be On Top!
Sensation: Resume Services Show New Life Track