Resumes Writing Services USA: Join The World Leaders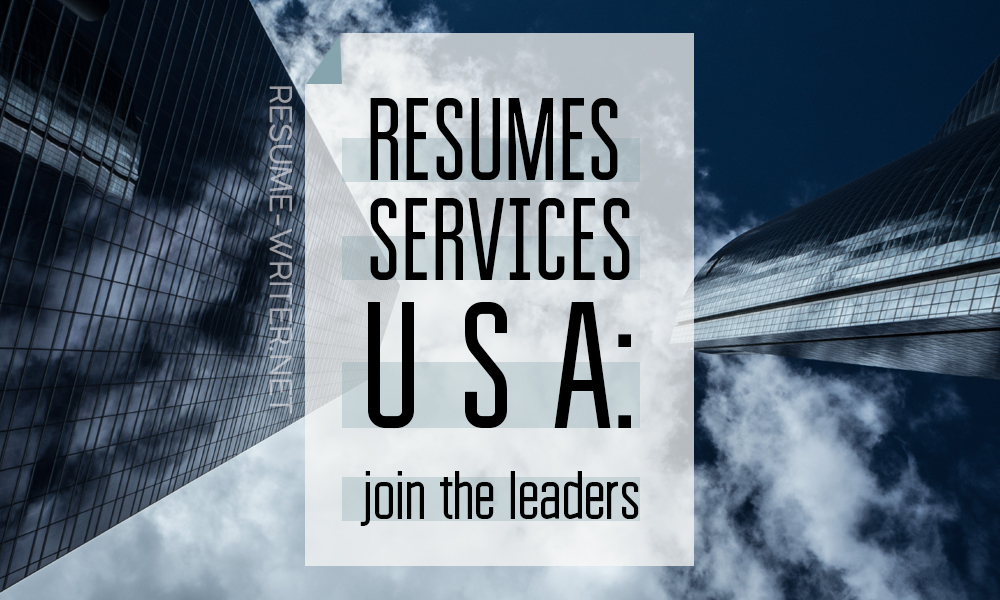 Resume writing service in USA: try to find better one
Nowadays virtual world occupies a great share of our real life. That is the reason why today more than ever we must pay special attention to our behavior, words, activities on the web. Social networks along with online resume agencies can become a powerful job searching tool. We offer resume services NYC, thus, we know how to create such resume, which guarantees soon employment. Our site provides resume related services such as: building, proof reading, revising, editing, format fixing according to modern requirements. Our services have a reasonable cost. Approach of our specialists is serious and competent. On-time delivery, satisfaction of any appeal, flexible payment system, expert support on the recruitment field issues are guaranteed with our online competent team.
Social networks behaviour: how to act being a job seeker
A great number of employers supervise the applicants' accounts in social networks. We are going to find out what steps need to be undertaken to make positive impression and not to lose a good job offer because of a questionable conduct. Social networks each day gain more importance. Each person uses them differently in each particular sphere of life. Employers also do not avoid them, including the cases when candidates are being selected for some vacant post. According to the famous publishing house, up to 45% of employers claimed that their mind about an applicant changed for the worse after the attendance of his (hers) account in social networks. Almost 20% of them told that such data brought an applicant more points.
Employers look through the worker's profiles
Employers use such a method of the staff selection all over the world. According to a recent survey, a thousand HR managers have been interviewed: 53% of them check accounts of their prospect workers. The interview impression did not coincide with the candidate's image in social networks in 28% of cases: in 19% opinion on them changed for the worse, in 11% opinion changed for the better. Only 0,8% of HR managers refused to hire an applicant for work after seeing his (hers) account. We need to specify that the account supervision in social networks is applied to the office employees only: social network activity of the candidates for a salesman or cashier position does not interest employers. Based on the survey data, it became possible to say what conduct is acceptable in social networks to look attractively as a worker. Our specialists publish some simple advice to help in this matter. Additional information about top rated resume writing services is on our blog.
Speak about work. Just like our friends, recruiters often observe the discussions of some essential for their sphere subject. More than 45% of HR experts change their opinion about a candidate, who publishes suitable comments in suchlike discussions. There are certain specialties (such as PR, advertising and other similar spheres), for which the number of contacts is also essential. Due to this reason, employers often notice the number of friends at work that an applicant has (so-called "work fellows"). SMM or PR sphere workers are often asked to provide links to their accounts.
Participate in groups. Membership of the profile groups is a big advantage. 67% of HRs admitted that an applicant earned more points participating in such groups (http://resume-writer.net/blog/perfect-resume-guidance-straight-from-hr). Up to 60% noticed the presence of the posts associated with professional topics. The professional groups can be found by means of a simple search or by noticing what groups our fellow-workers attend. By the way, it is advised to be subscribed to the specialized pages of profiled media, especially English speaking ones – their presence in a job seeker's profile adds to it more value.
Never talk offensively about employer. Information that a job seeker has got tired of working makes an evidently bad impression on the recruiters and prospective employers. When they see them, more than 70% of HRs doubt whether this applicant is worth being invited for an interview. It is also applied to the negative responses about one's current employer: a prospective worker who "washes one's dirty linen in public" and constantly complains cannot be called by anyone to be a dignified candidate. So, your complaints about life should be kept for the close ones. However, be aware of the problem of sexist interviews.
Select photo carefully. Any employer can see what data and material a candidate publishes publicly. So, do not publish something that can affect your image negatively. Particularly, obscene photographs make almost 35% of HR experts irritated. The accepted "openness" degree of any photo depends also on the field of one's activity. People of art may publish confusing or equivocal photos, and probably they will be treated with understanding. Anyway, if you are applying for any serious post, the profile content should be filtered.
Write optimistic posts. There is a requirement to be especially attentive to what tone your publications have. More than 40% of HR experts deteriorate their mind on an applicant in case he (she) uses "dirty language" on the web. 8% of them are concerned about grammar mistakes. More than 10% are irritated by the pessimistic statuses. Recruiters say that it causes a pretty negative feeling when applicants publish posts that they want to leave work, that it makes them feel sick, other pessimism such as "Everything is absolutely horrible".
More posts in Services section:
Custom Resume Writing Service: Expert Help At Cheap Cost
Best CV Website Offers Affordable Services
Help Me! Write My Resume For Me!
I Make My CV Perfect On Resume-Writer.net
Professional CV Resume Writing Help
Social networking can harm you
Social networking is an essential part of our life. There is no difference whether we are in the job search process or already employed: any post, comment or like can cause harmful effects on one's professional image. Networking contributes greatly to the building of the useful contacts or can even help get a job without getting up from a chair. For others, on the contrary, networks can ruin everything, if the following mistakes are made.
Photographs. The first what any person looks at in a someone else's profile is photographs. It is sad, but even a single photo taken at a wild party can seriously damage one's credibility. Publishing any photo, it is necessary to think how managers or co-workers will treat it: whether they laugh at them or condemn? Maybe, it might be even better to avoid publishing them at all. Read here what a good manager should be: http://resume-writer.net/blog/several-tips-for-young-manager.
Words. We must watch the mouth in everyday life, and consequently in virtual. For instance, an employee behaves very kindly and politely at the office, but in a network he (she) never misses the chance to use obscene language, then it means this employee is not sincere and hides his (hers) real "I". Such thoughts will definitely come to the employer's mind. Naturally, it all cannot be called the best features of a worker.
Friends. Even when we do not publish compromising photos, our friends can do it instead of us. That is why we need to follow what photos we are tagged at by our friends or fellows.
Interests. Groups, we are subscribed to, are always visible in our profile. Even if someone likes harsh jokes very much, the recommendation is to add a group with such jokes to favorites. Sign up for the publics of your professional direction only. Such subscription looks more respectably, and also will bring much personal benefit.
Games. If a worker prefers to rest playing games, it is recommended not to use social networks for such purposes. List of applications, which are often weirdly called, will not serve for one's good. An applicant can play only several times per week, but others might think that he (she) plays all the time; a paranoid boss will start suspecting that an employee plays even during the hours of work.
Critique. Rough comments and criticism of some organization or fellow-workers are better to keep for private talks with reliable people. Never introduce them publicly. It is also better not to scold competitors to find favor in the eye of the managers or employers. What if one day we have to send them our resume… Think about it. However, using special service to fix resume, there will be nothing to worry about.
Virtual help – real result
Although, we provide our services online, they have real visible result. Online activity allows us to serve the clients all over the world. Everyone benefits from it. At the mean time, results of our work have positive impact on real life. Resume created or processed by our qualified experts attracts attention of various employers, thus, an owner of such resume has more chances to get the desired position. Built or fixed resumes bring job seekers more workplace options. So, resume services are worth being ordered, especially, when they have affordable cost along with many free additional services and bonuses. Visit our main page, check out the presented services and decide which one will bring the greatest result. Or contact our team via live chat and we will help to make the right choice.
Popular related posts:
Resume Writing Website Makes Resume Selling
Best CV Writing Service: All You Need Is Here
Resume Editor: Reasonable Choice For Reasonable Money
In Search Of The Best Resumes Writing Service