How To Look For A Job: Instruction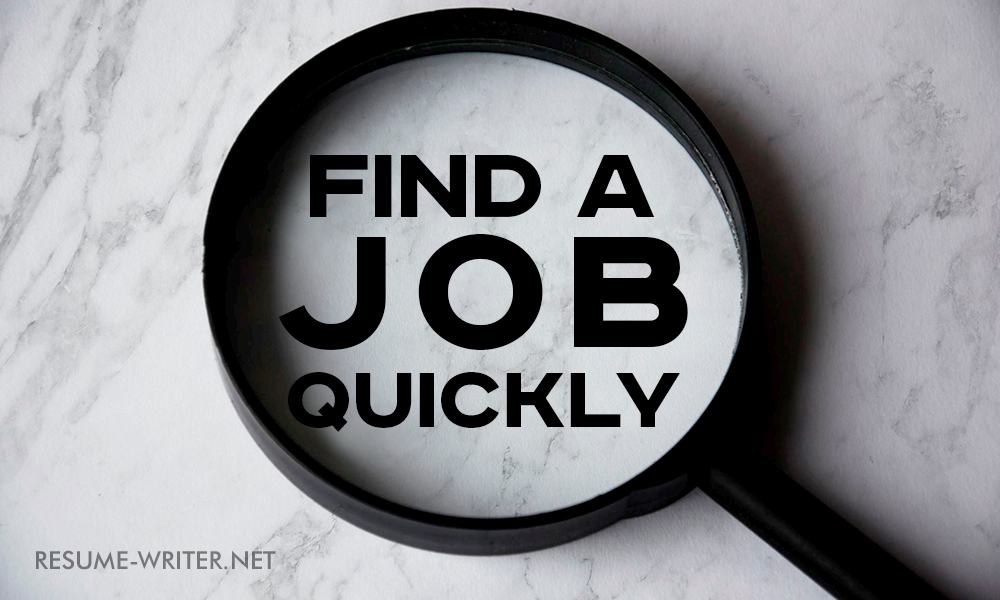 Still cannot find a job? Have you tried to use professional help? Most job seekers believe they can cope with this task on their own. However, in practice we can see that experts in the recruitment field can help facilitate and speed up the process greatly. The problem is to find such experts who can really help, and not those who just make money delaying the process. The good news is that fortune has just smiled on you! At the moment you are on the site that specializes in resume, CV paper, cover letter, thank you letter and other professional documents. This site is a certified professional resume writer. High quality papers are created here. These papers are your admission ticket to your dream job! Make it happen now. From our side we will provide any required service, assistance or support. Do not think about the cost because you can afford it. Do not worry about anything because we will take care of any tiny detail. Just enjoy the result! We believe that this simple and clear guidance on how to find a job, what to begin with, how to create resume and prepare for an interview will come in handy. All this is in our post.
I want to get a job. What should I begin with?
The career guidance tests will help choose a job that suits you the best. However, you can also figure out what you need on your own. Think about what you are capable of, what attracts you, in what sphere you could use all of that. Ask yourself: "What connects my interests with my desires? What makes me happy?". Write it down. The successful result is hidden in your honest answer.
If you are employed but want to change your sphere of activity, check your readiness for such changes. Think whether you can afford it, whether there is enough financial support to overcome the "unemployed" period. Or maybe it would be better to look for a new job without quitting the present one.
What to do next?
Study and analyze. Evaluate the salary level, the number of open jobs in the labor market. Select those you like and suit. Check whether the requirements for the candidates match your skills (http://resume-writer.net/blog/how-to-figure-out-what-kind-of-job-matches-you-perfectly). If everything matches, you may start acting. If something does not match, rethink what skills you lack. Develop them to work where you want.
Where to look for the job offers?
The job search options are extremely numerous:
Work search sites
Recruitment agencies
Social networks
Employment editions
State employment service
Vacancies fair
By the way, some companies do not publish advertisements in the press or on the employment resources. Imagine that there is a company that interests you. Visit its official site, find the section "Career" or "Vacancies". Some interesting offers might be waiting for you there. Do not forget to ask your relatives, friends and familiars. Probably, they (or someone they know) need a good specialist. And here you are!
Oh, I have found it! I want to work here. I am going to call!
Do not hurry up. Create your resume first. What is a resume? It is an important professional document. You need to write in it everything that has relation to the position, which you want to occupy and explain what you are ready to deal with. Necessarily include such points:
Personal data.
Goal.
Education.
Work experience.
Additional skills.
Hobby.
Add your photo (but an official photo, not the one you are on vacation, drinking or something like that).
If you create resume using some text editor, give your file a simple and clear name. For example "Resume. Smith".
Do not forget to proofread your resume, to remove the punctuation and orthographic mistakes. Send it to your friend to edit it or use the professional assistance instead.
After all of that, make sure that your choice is correct. Here are the signs you love what you do. If they are present, you are doing everything right.
Is a resume obligatory? Can it be avoided?
It all depends on your profession and post. If you are a highly qualified specialist, lawyer, accountant, engineer etc., then the answer is yes, of course. You need a competently built developed "professional visiting card". Journalists, copywriters, designers also need it. They need to create a portfolio in addition. People of "physical work / manual labor specialties" also should have it. Naturally, when an employer asks for it, it is more than just necessary. Use the leading resumes writing services USA that guarantee excellent results.
You have said something about experience. I do not have it. Now what?
This is a disputable question because you probably have it. It just requires presenting your skills correctly. Have you had a probationary period? Was there any internship? Was there any temporary job? It all means you can do a lot!
Describe the knowledge and skills you have gained during the studying and the qualities that have much in common with the vacancy. For instance, you needed to process a big amount of statistical information, you managed to develop a good public speaking skill or you learnt to speak fluently some foreign language.
Also, take care of cover letters. These are so-called useful things that not only help young specialists in the job search process but also they supplement resume greatly adding to it much more value. Our experienced cover letter editing service will come in handy when you decide to create your cover letter.
I have written my resume and published it on one of the recruitment sites. Now I am waiting for their call
You can wait an eternity. Recruiters really search for staff and look through the resumes on the sites every day. It means you can be found some day as well. But when? Do not feel shy to show initiative and submit your resume to a company, which attracts you. This will make the process faster. The best quick cover letter writing service will be helpful as well.
To make resume outstanding you need to submit a cover letter along with it. It can bring much profit explaining your main employment document. This is also a good way to show your interest in the post, to make employer invite you for an interview, and in general to enhance the probability of a positive answer (http://resume-writer.net/blog/a-sober-look-at-the-relationship-employer-employee).
When you write, use the cover letter samples. However, do not write a template, do not copy someone's experience, rewriting it in other words. Use humour and creativity only if they are appropriate for the particular company and vacancy.
In addition, get other useful posts:
I Create My CV With Resume-Writer Expert Team
Best CV Website Offers Affordable Services
CV Editing Services At Affordable Cost Are Here
Working Mothers: How to Find a Good Job
How New Job Can Help You To Recover
I Make My CV Perfect On Resume-Writer.net
Best Resume Writers Create Superior Resume
Help Me Write A CV: Make It Prominent For Me
Resume Writing Website Makes Resume Selling
Highly Professional Help With CV Is Here
I have already submitted my resume but there is no answer yet. Why?
It happens. Probably, a recruiter could just miss your resume. In order to make the situation clear you may call someone whose contacts are mentioned in a vacancy. Thus, you will know whether you suit this company and what to do next.
I am invited for an interview!
Great! Now you need to prepare carefully:
Study information about the company (how many years the organization exists, which goods and services provides, what the situation in its activity field is, what the corporate values are, what media responses it has, etc.).
Try to find out who your prospective interviewer is (full name of a recruiter or a company owner, their contacts, etc.).
Prepare answers to the most frequently asked at the interview questions (What have you heard about the company? Why does it attract you? What mistakes did you make in your work? Tell about your advantages and disadvantages).
Be ready to ask. You will need to get information about work conditions, schedule, clarify the financial side, ask why they have the vacant position and what duties you are going to have and so on (http://resume-writer.net/blog/top-great-questions-to-ask-your-job-interviewer).
Think about logistics in advance: where the office is located, how to get there, how much time it takes, etc.
Select appropriate clothes, make them neat and tidy.
Sleep well before an interview.
Do not forget to take your portfolio, documents that prove your qualification, and whatever else required.
The interview was great and they gave me a test task. Should I accomplish it or not?
Yes, of course. The test tasks are necessary not only for employers, but also for you. When you implement them, it becomes clear whether you like such activity. Such tests give an opportunity to avoid disappointment, waste of time and lost chances. Now you may start thinking about how to reach the top of the career.
I got it. I start acting!
Good luck. You can do it. The job search is not easy, but we are sure that patience and enthusiasm are the best friends in this matter. Start getting prepared and do not wait that the work will find you because you need to look for it. The given instruction along with a great career strategy will become your companion.
Why have not you found work yet? 10 tips given by professionals on how to find a good job
The specialists have shared how to find a good job quickly and without problems. Every day thousands of new vacancies appear on the job search sites, but it is not that easy to find a job. In most cases, demand is several times bigger than supply. For instance, there are six resumes for one position in the accounting and finance field; there are eleven specialists for a lawyer post; more than thirty candidates for a journalist position. Our experts know how to get employed in spite of the difficulties and high competition. Cheap professional CV and cover letter writing services are your additional helpers.
Competent resume is the key factor
The most important about resume is to define clearly the position you are applying for. According to the studying, most employers will not look through the resumes that contain the phrases "any position" or "a specialist". You need to specify clearly what you want. It is recommended not to give links to your social network profiles in resume (unless it is required) because a prospective employer can find there compromising information about you. Resume should not be too big. It is enough to enumerate your skills and abilities by points. Perfect resume size is about one page.
Job search season
Everyone knows it is difficult to find a job in summer. During the rest and vacation season the number of vacancies decreases significantly (here are some tips to make the most out of vacation). However, experts advise some job seekers to look for a job exactly in this period. For instance, this advice is suitable for the tourism field specialists, agriculture experts, educators, who start preparing for a new academic year already in spring. Besides, the number of candidates is also about 25% smaller in summer comparing with winter time. The fewer competitors are the easier employment is.
Know your value
In order to evaluate oneself correctly, a job seeker can use any job search site. It should help us figure out the average salary of some particular position. For instance, if you are an amateur or a beginner, you need to put the salary bar lower, or vice versa if you are an experienced specialist with rich knowledge, then the salary demands can be increased. Keep in mind that too low salary demand will make employer think you are not a professional, but too high will mean that you are too much ambitious. It should be said that for the last several years salary demands in some fields have decreased, so do not expect to get "golden mountains". Anyway, you need to know how to attract attention in the labor market.
Resume photo
More than 70% of employers believe that a good photography helps in the work search process. They say that people are judged by their appearance first. According to the specialists, a "passport photo" will not bring success because all candidate's charms are left behind the camera. However, excess informality (such as a home-couch photography) can also harm. The perfect option is a photo taken specially for some particular position. If you are looking for an office job, your photo should be taken in the business style (i.e. wear a suit). A singer may attach a concert photo. The main rule of any snapshot is that it should be face focused, and a candidate should smile.
Leave "friendly team" cliché alone
Looking for a job, an applicant should read attentively all vacancies. Do not accept desperately the demands and salary that suit a graduate if you are an experienced worker. A phrase "be ready for extra work hours" may hide twelve-hour working day, and "stress resistance" may imply an inadequate or weird boss. Now all vacancies maintain the phrase "friendly team". Many experts are sure that you do not need to attach importance to it. This is a mere attempt of an employer to gain the prospective candidates' trust.
Do not relax even for a second
Even when resume is submitted, you cannot sit with your arms crossed. Job seekers should remind about themselves. So, when resume is submitted it is better to call and make sure that they have got it. Also ask when you may come for an interview. Employers love initiative employees. The best resume from HR always implies "initiative" point.
What to do if they have rejected you
You submitted resume but your prospective employer rejected it. Do not give up! First, review your resume. Have a look whether your professional skills match the vacancy demands. Do not be lazy to edit resume and adapt it for each vacancy you are applying for. Call the company and specify why resume is rejected.
Dress code matters
Only 3% of employers do not care about the worker's appearance. If you are invited for an interview, you need to think seriously about what to wear (http://resume-writer.net/blog/what-to-wear-to-an-interview-put-the-accents-correctly). It is not obligatory to put black business suit on. A jacket can be replaced by not bright or colourful cardigan; a good option for women is a medium size dress. Employers pay attention first not to the appearance but whether a job seeker is neat and tidy. Torn or not ironed clothes, dirty shoes or shabby nail polish on your nails are not acceptable.
How to behave
Before an interview you need to think carefully about your answers to some standard questions, such as "Why do you want to work for our company?", "Why did you quit your previous workplace?". Maybe you wanted to leave a dull job. Show that you are an interested and motivated worker. Do not be afraid to ask about the company. Telling about your achievements, emphasize how useful you can be and give concrete examples.
Make recruiter like you
Usually, interviews are conducted by a recruiter or an HR specialist. Usually, this person is not much competent in the job seeker's work duties. That is why recruiters always pay attention to the candidate's conduct, style and literacy of speech, politeness and appearance. Try to make recruiter like you and you will be employed.
Some more helpful posts:
Buy Cheap CV Online And Get Work You Dream About
Resume Editor: Reasonable Choice For Reasonable Money
Online Resume Writing Service: Good Start!
You Need Cover Letter Writers To Get The Job You Want
CV Writing Service UK: Highly Demanded, Reliable And Cheap
Best Resume Writing Service: Free From Risk
Adequate Help With Resume Writing Here
Resume Help For College Students: Need It? Get It!
Order CV Proofreading Service And Get Your Bonus
Resume Proofreading Service Engaging: Ultima Ratio
Active job search
There is a "law" – an official job takes eight hours per day, and a job search takes about one or two hours. There are very rare cases when people spend 6-8 hours on the search. However, such approach helps find a job in 5-10 days. Of course, not everyone wants such speed. Here are some working at home principles for you. If you have free time, you can act more slowly, calmly and look for a job for months. It is up to you. This post is about how to find a job within a short period. The quick job search technology consists of several stages.
Your desires
What are you dreaming of or want to do? You need to define this first. This is the base for the further actions. Answering this question, follow these rules:
Get detached from your present activity (especially if it does not bring pleasure or does not match some of your demands).
Leave your previous experience alone. It may happen that you want to be an educator, but you have work experience in the building field. So what? To work as a builder for the rest of the life?
Create such conditions that are convenient to you. Do you like spending time in your country house? Go there, sit comfortably, feel free. Or maybe you have a favourite café. Go there, order a cup of coffee and think about what you like doing.
Naturally, all coming ideas need to be written down. You can memorize them, but it would be better to make some notes. Thus, nothing will be lost or forgotten.
Specifics
You need to bring to life the ideas you have got from your consciousness, i.e. set the goals. If you want to help children, it is not obligatory to work in a kindergarten. There are many other options, such as the holidays organization or creation of educational games, medicine, building of the children's playground, etc. You can start giving tips on how to go back to work after holidays. The options are thousands. You need to choose one or two the most acceptable among them. For this purpose browse the employment sites, read newspapers, talk to someone you know (or do not know). In this case, you need information from people who have already worked on something like this. After that, find out how at least approximately such activity is called in the labor market.
When the activity name is clear, select the companies that work in this field. Discovering the companies, you will learn much new about what is going on in their field. If you see there is little information about the company services on its site, call them and ask in detail. Speak, learn, discover.
The company choice is one of the most important steps! This is the stage when we form the clear goal of employment. The clear and exact goal helps find a job quickly. Here are some additional unusual ways to get a job.
Preparation
The activity field is already chosen as well as the companies that are worth you. Now it is time to get prepared for the coming meeting and negotiations with the leaders of these companies. Go ahead!
Attractive and competent resume. Previously we wrote how to create a competent resume. Let us repeat it in short. It should be structured, simple, written in clear language, with examples and one-page size (if possible).
"Deliciously" written cover letter is also required.
Well thought appearance. You need to take care about the first impression you make.
Responsibility (http://resume-writer.net/blog/how-to-stop-avoiding-responsibility-and-succeed-in-your-job). Punctuality is above all. Be in time and keep your promises.
Positive mood and success mode. Are you talking to a company representative on the phone? Smile! Coming to the office, look into the eyes more often, smile and shine from inside. Positive people are remembered.
Active actions
You have the vision of your future activity, the list of companies where you want to work, and you are ready for the job search. It is time to act and be persistent. We want to say it at once - the job search is only 20% of the result you want to get. The emphasis should be made on your initiative, and not on the number of open vacancies in the labor market. Vacancies can be absent at all.
We recommend the following actions order:
Call the company and get acquainted with the manager of the desired department or with your potential interviewer (http://resume-writer.net/blog/young-boss-course-how-to-develop-key-team-management-skills).
Submit there your resume. If you send resume to some particular person (mention his name in your letter), it will give you more chances for success.
Having submitted resume, call the company and ask whether they have got it.
Ask gently when it is convenient to call and speak a little bit more.
Thank your interlocutor and write in your diary the date of your next contact with the company.
Do you know what such method gives? They will remember you! This is the half of your future success.
Negotiations
Before the interview, your task was to make an appointment. During the interview, your task is to persuade your interviewer that their company needs you and that you will be successful in work. There are so many books, articles, tips and even training on how to negotiate. There are many posts on how to get prepared for an interview (this job interview preparation post is one of them). Two main tips on negotiations are to demonstrate your desire to work in this particular company, and persuade others that you will be successful and that you are worth the salary you ask. Persuade your prospective employer, "sell" yourself, bargain.
Warning
The described method does not answer the question "How to look for a job correctly?". The method does not guarantee 100% success. This method gives confidence in yourself, helps find "your" job (or may even help find the start-up or business partners). Who knows what negotiations may bring? We suppose that in 1 of 7 companies you will manage to find a job. Anyway, different ways out are always possible.
Now you are aware of all useful tips along with cautions on the job search process. Use them wisely. They are what you need if want to get a job quickly. What else can help? Of course, our professional online service! The given tips in combination with the expert help of real specialists are your direct way to success! Low prices, quality resume editing, proof reading, friendly atmosphere and complete privacy are our professional principles. We will help you reach the set goals. Just remember that fortune smiles upon those who are willing to take risks.
More popular and exciting posts:
Professional Resume Writing Service: Be On Top!
Custom Resume Service: Avoid Or Make Use Of?
Resume Editing Services: Great Piece Of Luck
Need Resume Editing Service? Here You Go!
Resume Services Online: In Search Of The Best One
CV Rewriting Will Make Your CV Worthy
Rate My Resume: How To Avoid Deception
'Help Making A Resume': Your Appeal Will Be Heard
Resume Writing Help: Get Work Of Your Dream