A Sober Look At The Relationship "Employer-Employee"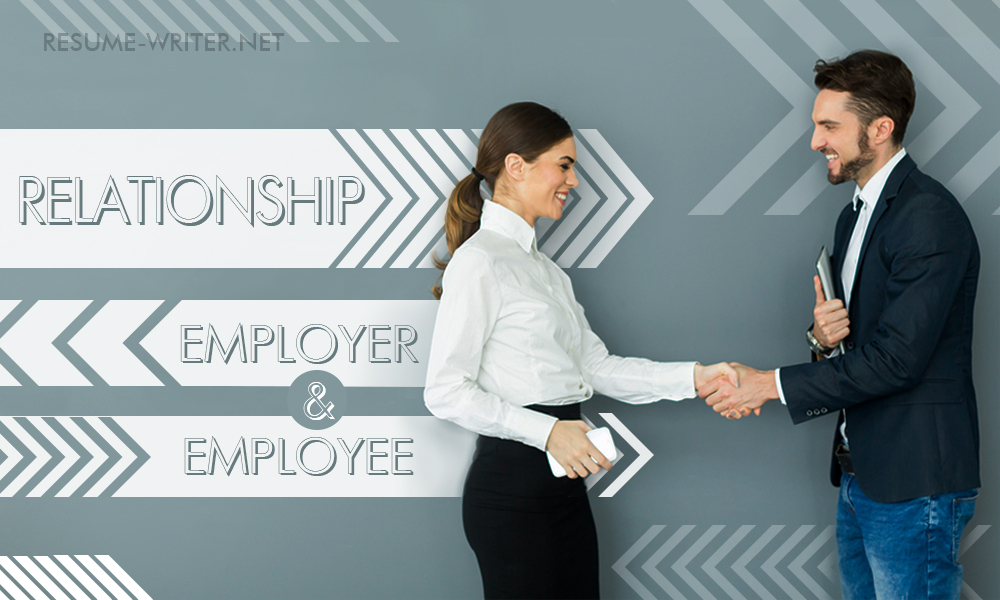 How can an employee find balance between his own rights and interests of his employer?
The recent research of our certified resume writer service experts has shown that not all the employees are aware of their rights and duties at the workplace. There is more, many workers of commercial and budget organizations are sure that someone owns them something. For example, their vacation, comfortable work conditions, sick leaves and so on must be definitely paid.
Meanwhile, the employees themselves just should come to work on time and leave their workplaces not even a minute later than the working day ends. Such relationships between boss and subordinates can hardly lead to productive work and results that would satisfy both sides.
The specialists of Resume Writer decided to figure out how to build real partner relationships with your boss, and build them in such a manner that they are based not only on the articles of the Labour Code Laws or other legislative acts, but also on the mutual trust and belief in joint success. We have published and present you this post on "A sober look at the relationship employer-employee", in which each person, whether boss or ordinary worker, will find much useful advice on how to behave and communicate to get greater productivity and result. Read additionally tips on improving productivity post published on our website.
Respect the interests and beliefs of your company
Whatever moves you make trying to announce about yourself (http://resume-writer.net/blog/guide-for-self-expression-at-work), all your efforts will be in vain if your boss can not see in you desire to work for general good. You should not demand to yourself some special treatment if you, from your side, work in half strength only and if you are directed by personal interests and nothing else. Do not expect that having careless attitude and performing the tasks just to finish them before deadline or just to spend working hours as much soon as possible, you will stay for a long time in a company.
No one employer, who has respect to himself and his business, will ever have desire to deal with a subordinate, who lacks initiative, who is lazy and irresponsible. And if the result of your work is far away from good one, they will say you good bye for sure, even if according to the law you are right. Do not forget that law implies not only your rights, but also your duties.
Respect yourself and your labour
There can be opposite situation. For example, you work hard involving all your powers, present new effective solutions, work without having mercy to yourself, but do not get any response, then you should definitely change something. The easiest and the most radical way is to look for a new job. Of course, you can try to come to consensus with your boss, try to make him follow the Code, threaten or beg him, but probably you will get absolutely nothing by such means.
In the companies where bosses treat their workers without respect, where really qualified professionals are not appreciated and the rules of basic professional etiquette are not preserved, you can not expect any positive change. That is why you need to take responsibility to change the situation by yourself. If you are a really good specialist, then it will not take long time to find a new decent job.
Read more useful posts on Resume Writer.net:
Professional Resume Writing Service: Be On Top!
Custom Resume Service: Avoid Or Make Use Of?
Resume Editing Services: Great Piece Of Luck
Sensation: Resume Services Show New Life Track
Resume Services Online: In Search Of The Best One
Forget the word "have to"
We repeat it once again: no one owns you anything, at least from one side. According to the law you should be provided with twenty four days of paid vacation, is not it? Great. However, you need to take into consideration whom you will leave your businesses to. Is there a person, who is ready to replace you? It is wonderful when there are several members in a team, who have related positions. But if there are no several members? Are you still ready to leave all the tasks, turn off your phone and go wherever you want far away from office troubles? Your boss will hardly appreciate such an action. We are glad to tell you that our team is there for you and you can contact us any moment. There is always someone ready to answer your request.
No one says that you have to dedicate your life to the company goals. But still they expect from you certain confidence. You can suggest an alternative option. For example, you can work remotely for a certain number of days of your vacation, always be in touch, react operatively to all the requests of your co-workers and employer, when it is impossible to do something without your direct participation. This is the minimum that you could offer in change of your prolonged absence at the workplace.
Be on one wave with your boss
You may not be afraid to be fired if you demonstrate initiative, if you are not terrified by responsibility when performing the difficult tasks, if you start new projects, respect your co-workers and understand the mission of your company in general (http://resume-writer.net/blog/how-to-come-along-with-elder-co-workers). When you give your powers, energy and enthusiasm to a common business, the reward will come soon. Employers are always ready to fight for valuable workers by offering them not only certain guarantees with bonus system, but also quite real material compensation and money bonuses for their labour.
If you realize the company aims and contribute to their achievement, you will not need any laws to "fight for" vacation, to stay at home when you are ill and have a temperature or to leave your workplace for a while to solve some of your personal matters.
Fall in love with what you do
The most wonderful job is hobby, which is paid. When you are occupied in the sphere, without which you can not imagine your life, all these "official" issues stop to be that much important.
This is the only way you can reach success. We are talking about the way of being a true professional. If you do not like your present position or what you are doing at the moment and the last ten years, you need to find confidence for changes. Work should not remind you slavery, but has to bring joy. Only in such a way you can realize that relationships between employer and employees can not be regulated by adopted in the past laws only, but also by a general idea, similar views and trust in the success of a company.
Resume Writer wishes you that your labour is always decently appreciated and you never experience towards yourself discrimination in any aspect from the side of your employer. Always keep it in your mind that your greatest protector and supporter is a sound mind and ability to evaluate the situation and your personal strengths in a proper way.
Additionally you can read other posts in this section in our blog:
Best Resume Writing Service: Free From Risk
Adequate Help With Resume Writing Here
Cover Letter Writing Service: Double Hit
Online Resume Site: Confiding In Resume-Writer.net