Stop Doubting Yourself And Stand Out In The Labor Market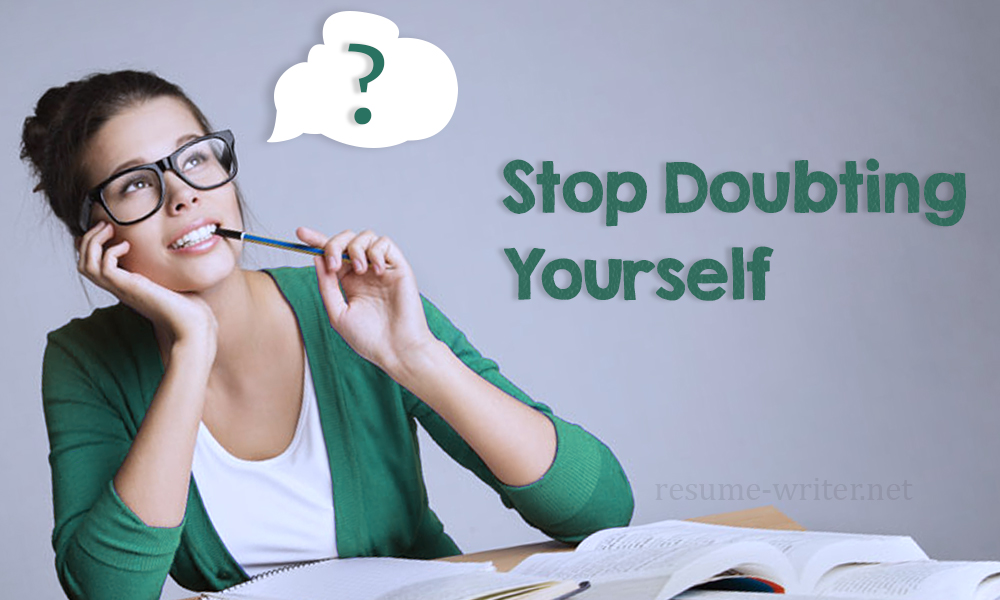 How to stop doubting yourself and stand out in the labor market
Make up a good definition to what you are occupied with – you will see how attitude of those, who surround you and potential clients, changes, how services providing gets clear contours, how inner confidence in correctness of made decision grows. All work suddenly becomes saturated with personal experience, meanwhile, trust to you grows by leaps and bounds.
In the world, where people are completely absorbed by their duties and troubles, interesting positioning helps to stand out in the market, to prove not only to others, but also yourself, value of your work, to spice up ordinary working rituals.
Specialists of our site with experts in self-determination matter present useful tips on how to find one's positioning, believe in it and inform people about it. We, executive resume writers, are going to tell about methods, which can be used working with clients and co-workers when it goes to creation of positioning and sense of what one is doing. Useful information on successful communication with colleagues is here: http://resume-writer.net/blog/how-to-get-on-well-with-colleagues.
Search of professional value
Professional positioning is an extremely important message in communication with others. All our life can be this message: this is our businesses and projects, which we can tell about later. Main problems, which people face looking for their new positioning, can be expressed in one phrase: "We are too informed generation, but we do not analyze enough what is happening around us".
Methodology, which is suggested here, is often mentioned in different books. It describes step-by-step process of how to realize one's mission and find personal value. In Japan they use special term called "ikigai", i.e. life purpose / sense of life. This is something that makes us wake up in the morning. So, one needs to answer the following questions:
1. What do I like to do?
2. What can I do well?
3. What am I paid for / what can I be paid for?
4. What do people need?
Thus, four essential spheres of our life are analyzed. At the crossing of these answers, as a rule, interesting solutions and amazing thoughts can be found. This will be an answer to important life question: "How can I earn money doing what I like and simultaneously bringing use to society?". List of perspective professions may be helpful: http://resume-writer.net/blog/top-ten-perspective-creative-professions.
This approach suits mostly those, who have just started to think on occupation of their dream, their positioning, who look for what to do in their next project. This method is hard to bring to life working at a big international company. Here, as a rule, possibilities for project choice, horizontal career movements and change of their directions are limited. However, still all this should not be an obstacle on the way of realization one's professional value.
Expert's remark
In our life there are so many beaten paths (school, university, work, etc.), but thanks to globality of world and economy we have much more opportunities to turn off the paths trodden by thousands of people. Often people make decisions like this: "I can do a), b), c). It means, I should be occupied with it further". This is not right at all.
That is why for most people coach session on four questions technique is almost first attempt in life to analyze oneself, to think about what they can give, and whether they can give more. The most difficult is to make a step aside from templates, which we live in.
These posts may be helpful:
Best Resume Writing Service: Free From Risk
Professional Resume Creator: Shine Like A Star!
Sensation: Resume Services Show New Life Track
Professional Writer Resume: Life-Changing Service
Satisfaction Of Request: Help Building Resume!
Fight with one's own "unworthiness"
Very often brilliant ideas remain just ideas because many people are strongly convinced: "I am not worth it". This is weird, but we are convinced that we are not worth having a good job, earning a lot of money, sharing experience, etc. Sometimes, trying to get a job we are ready to accept any conditions, even inconvenient and very unsatisfying ones.
To fight doubts, ask yourself: "What can I teach others?" or "How knowledge of what I am doing can improve life of other people?". Then ask friends and fellows: "What good, useful and valuable can you see in me?". Answers will be very interesting and unexpected for you.
By the way, "Balance wheel" technique also helps in self-analysis. In short, according to this technique, one imagines life as a circle divided into important spheres (family, work, development, learning, sport, hobby, friends, traveling – number and names of spheres depends on one's priorities), and evaluates one's achievement in each of them on a ten-point scale. Thanks to this evaluation one can see what spheres are successful, what spheres require more attention and work.
Also, make it a habit to draw conclusions and fix achievements. In one's mission search and realizations of self-value regular enumeration of what one has managed to achieve during a year / six months / a month helps greatly. Summing-up can be done in any form. Do not be ashamed to share your achievements with others, for example, in social networks. Advantage of public discussion is that people with similar interests begin to be attracted to you. Also, keep in mind that good resume attracts good employers. Get acquainted with features of our resume maker and get perfect resume here.
Expert's remark
Several years ago employee of a company published his detailed results of the year in five directions, where he was describing what he managed to achieve in sports, business and so on. He got at once several interesting requests in business. Later people, who had similar interesting plans, also contacted him.
How to stop having scruples and declare oneself
We are really used to underestimate ourselves and belittle our achievements. Trying, trying, and once again trying is the only option of scrupling fighting. If at the very beginning one is afraid to demonstrate his / hers thoughts, results, achievements, plans for future, then we advise to start sharing them with a small public. For example, share achievements and plans with close friends only.
Describing one's achievements, experts advise to use concretization formula: "I achieved /such/ results for /this/ period thanks to /this/". IT can be useful as in friendly conversations, so as in resume creation, interview passing (ways to answer interview questions can help greatly), negotiations and so on. In such a way concrete measurable result and means of its achievement is shown. Surrounding / partners / employers see that, for example, a big order was not an accident, but you managed to get a client because you worked hard to get it.
There is a set of questions, which may help to find clear formulations for defining and declaring oneself on the labor market. For example, finish following phrases:
1. People who surround me will know me as a person, who…
2. I am interested in doing…
3. I can be paid for…
4. I want to be… (answer should maintain adjectives)
5. I want others and my business partners remember me as a person, who have done / achieved / implemented / produced…
Learning to position oneself correctly for external environment and meeting new people, one practices brief but capacious wordings. Learn to stand out on the market to be more attractive for employers and partners.
Expert's remark
Do not feel ashamed to speak about yourself. In fact, in any situation personal experience and life examples are always more interesting that abstract conversation. Describing your path, there will always be people, who will be interested in your personal experience and those results, which you have achieved. For someone such results may seem obvious, but for you and for huge amount of other people your experience may be useful. By the way, your usefulness may be demonstrated multifacetedly. People around may find it useful to read review on an event, summary of a visited lecture, book review, etc. We have more work self expression tips in our blog.
How to present and promote oneself correctly
Today there are a lot of tools to show one's active professional development. For example, a note about profile conference visiting in social networks, certificate of online course completion, personal review on an interesting resource – all this can bring much use.
Analyze carefully where you appear on the internet. At least, check what Google search shows about you. Make sure to have profiles with current information in social networks, including professional networks.
Expert's remark
This is one of reflection possibilities. At least one post once a day should be published in social networks. This post should be one's own view of situation, personal conclusion made after analysis. Sharing impressions on a conference in one social network, it can be duplicated in other networks as well. All these tools also help to fulfill personal duties towards oneself: a person not just visits an event, but makes certain conclusion about it. It motivates to think on what use is got from meeting or any other event.
Other posts, which may interest you:
Resume Proofreading Service Engaging: Ultima Ratio
Online Resume Writing Service: Good Start!
Cheap Resumes Buying: Lucky Lottery
Online Resume Site: Confiding In Resume-Writer.net