Top Ten Perspective Creative Professions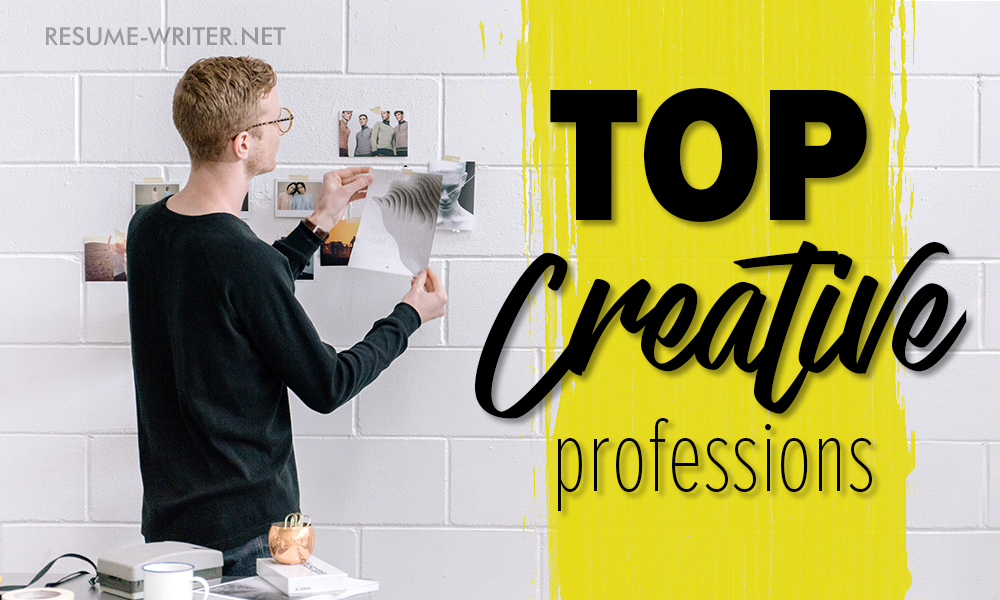 Creative profession requires making up a resume as well
Every meeting, negotiation, interview starts from acquaintance. It's quite short but very important part of it because further relationship depends upon have you impressed your partner, customer, investor and so on. Every job starts with a resume considering so now this document replace first handshake and sometimes first meeting at all. People believe in what they see, so make them see your best applying for a job by using best resume services. It's the best visit card to have. Commonly, applicants trying to manage it on their own. To tell the truth it's not cunning at all. We pay mechanic for car repairing because we're sure that this person knows better how to face it and has got some experience, so there is no hesitate that will be alright and function. The same thing is about resume fixing service online. So trust our professionals and eliminate risk of being ignored by the employer. Sometimes little money solves really big troubles or even prevents them. Here is that one case. Concentrate on choosing right profession and going through with it instead of wasting time in attempt to outstand with the CV. Win resume competition easily with our resume and cover letter services.
How to recognize perspective creative profession
Nowadays we're living in a fast changing world. Consequently, it's cardinally important to feel upcoming trends and analyze what industry sector or what kind of job exactly will be in demand soon and it's necessary to start working or at least learning how to work immediately to grasp your piece of the pie. It's still true for creative people who can't stand common and boring job. So, here is the list of the top ten the most perspective creative professions for unordinary people.
Look also:
Resume Services Online: In Search Of The Best One
Navigating Through Resume Writing Companies: Short Way
Sensation: Resume Services Show New Life Track
Cheap Resumes Buying: Lucky Lottery
Eight Unusual Ways Of Getting A Job
10th place – man of letters
Some people are very anxious about writing essays, articles and other papers because it's boring and difficult for them to make up some reasoning and then put it together in a beautiful and consistent sentences and then into the whole text. On the other hand society is fond of reading well-fashioned essays though sometimes its content isn't very awesome at all. To be honest, a post which is lexical glorious and creative may succeed even having a total lack of content, because readers will tear it apart for lots of lovely and mysterious quotes. There many vacancies for writers, for example professional resume maker service.
Writing is not simple. Talented writers face the problems of having no inspiration, mental tiredness. But anyway this profession is creative and isn't dull at all.
9th place – illusionist
Everyone believes or at least want to believe in miracle. So, people visit illusionist's performances because they want to be deceived. It's in our nature. There is no way to change it. That's why the profession of magician went through the time and still actual now. It has changed a lot, that's true, but it's still interesting and perspective.
8th place – jeweler
Working with precious metals like gold, platinum, silver and stones like diamonds, emeralds and others requires creative mind and at the same time strong and high-skilled arms (http://resume-writer.net/blog/satisfaction-of-request-help-building-resume). Jeweler is that person who transforms inconspicuous ugly stone into a piece of art. Now, bijouterie is quite popular all over the world and some brands are even prestigious. How did they reach it? It's completely PR managers' and jeweler's merit. So, if you feel you're able to create unusual, beautiful and suitable bijouterie go and try yourself in this racket, it may become beloved and highly-paid creative job.
7th place – stylist
Is it possible to make literally ugly person to shine bright like a diamond? Every stylist answers "yeah, sure". Sometimes people have actually no idea what to buy and what clothes match with each other and what – don't. Professional stylist always knows how to "wrap" the customer to hide his or her disadvantages and emphasize dignities of the body. All the stars use their services, that's why there're looking so neat and awesome but indeed their appearance is not so bright in several cases.
6th place – florist
Making up beautiful and unique flower bouquets it's in demand now and people are about to pay quite big money just to decorate their event with lovely and good-looking combination of different flowers. Especially it is in demand while preparing for the wedding ceremony, because it's hard to imagine this event without such a part of décor like flowers.
5th place – creative director
This type of employees is mostly wanted by advertising agencies and members of entertainment industry. That one trait which makes these employees rare and valuable for the companies is uncommon combination of strong leadership and organization skills and outstanding creative mind, ability to solve problems by theirs own ideas rising immediately in their mind.
4th place – bartender
Have you ever seen real bartenders showing off? I guess all the questions like "why is this profession creative?" will be gone forever. No, I'm not talking about bleak guys pouring beer in your glass in small poor pubs or bars (http://resume-writer.net/blog/sensation-resume-services-show-new-life-track). Real bartender turns liquor serving into a piece of art and attractive performance.
3rd place – photographer
 It is one of the best, widespread and perspective creative professions all over the world because of social network influence. People have got an ability to show off there so it's possible to choose only best photos and impress with your bright appearance even you're not so awesome indeed. That's why this job is in demand and becomes more and more popular every day.
2nd place – master of ceremonies
Good wedding requires special program of events and a man who can make everyone laugh and take a part in it. So this profession is quite unique but very interesting and highly-paid.
1st place – designer
This profession provides you with a wide range of field to work in. You may succeed in interior design, landscape or web one. Anyway, designers' services are quite expensive so this activity gives an opportunity to combine earning good money and at the same time doing the job which brings you a delight.
Choose and start
If you're tired of commonness chose on of these beautiful and gaily profession and try it! Improve your skills and knowledge and let our experienced and professional resume creators to take care of your CV. But you may ask: where to find an employer to send this perfect resume? There are lots of ways of finding a job but the most creative one is using social sites to find new job.
Popular posts:
Online Resume Site: Confiding In Resume-Writer.net
Professional Writer Resume: Life-Changing Service
'Help Making A Resume': Your Appeal Will Be Heard
Why Do We Need A Job Even We've Got Plenty Of Money?