Working Mothers: How to Find a Good Job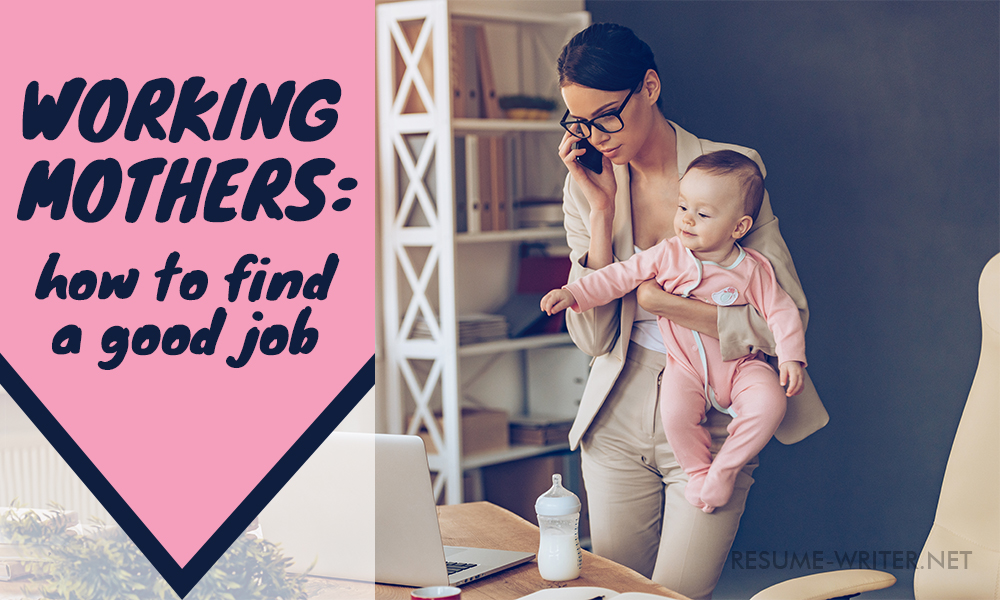 How it is possible for a young mother to find a job?
"I can not find work, they do not want to hire me because I have a small child" – these are the words that we can hear often from mothers on different internet forums and in real life. In fact, not all employers are ready to demonstrate flexibility towards a female employee who has a child. However, let's try to figure out what perspectives women with children have. Best resume writers of our professional Resume Writer website will help you to get acquainted with the details on this issue. We are going to present you useful tips for mothers, who do not want to turn into desperate housewives, on how to find a good job. If having read this post, you will still have some questions, you are free to contact us and ask whatever interests you.
The labor market is on the side of motherhood
For the very beginning it is necessary to forget the myth that having a small child it is difficult to be employed. According to statistics, only 6% of employers avoid hiring for job women who are married and have kids. Married women without children face more difficulties, because 16% of employers are not eager to employ them, because they think that in the nearest time such a woman will start thinking of family replenishment. So be patient and optimistic, because you state is not that bad as it may seem and as a lot of people think.
Make or break choice
The first thing that one should do is to define what you are ready for to conquer the career peaks. There is no secret that for professional growth in a serious company it is not enough to work eight hours a day. The readiness to stay in touch during non-working hours, working extra hours and probably business trips are conditions and requirements that employers expect from specialists who want to have career development and high wages. Although Labor code is absolutely on the side of mothers, it is necessary to weigh all the pros and cons before start dealing with career building. It is also possible that the feeling of guilt towards your child, who spends most of the time with grannies and nannies, will be bigger than the felling of satisfaction from work and high income. However, there are a lot of positive examples, when an "organized" mother is in time at office and in kindergarten.
Option #1: full-time work in the office
Whatever the situation is, it is not obligatory to look for a job with fast career growth possibility. It is also great if one manages to be employed by specialty at a reliable company. When it is agreed who will take care of your child when you are not at home (husband, grandmother, nanny or kindergarten), you may start the job search.
For the very beginning refresh your knowledge on specialty. Most likely that it is a little bit out-of-date while you have been occupied with family matters. Surfing on the Internet and looking for the vacancies, we advise you to pay attention to the new requirements to the specialties of your field of activity and interest. You need to have a clear image on what has changed in your sphere. It is necessary to read special literature, to communicate with other specialists in professional communities on the Internet. If required, refresh the knowledge of foreign languages.
When building your resume (http://resume-writer.net/blog/satisfaction-of-request-help-building-resume) in the "Family status" field it is better to mention that there is a person except you who can look after your child. Suchlike information will make you absolutely equal with other candidates for the vacancy. Also remember that you can always use help of resume editing services that will make your resume original and error free. And we would like to remind you that our website are provides resume services at reasonable prices and affordable for everyone.
Additionally you can read:
Fix My Resume: Guide For Ideal Image Creation
Rate My Resume: How To Avoid Deception
Resume Services Online: In Search Of The Best One
Cheap Resumes Buying: Lucky Lottery
Sensation: Resume Services Show New Life Track
When they invite you for an interview, it will be necessary to emphasize two points. First of all, in spite of the forced break in work, you are still a professional. You read specialized literature, you have passed professional development courses, you communicate with your former colleagues and so on. Second of all, you have reliable supporters in the process of upbringing your child and you will not be forced to take sick leave often.
Save time on road
It is possible to save two-three hours if you find a job close to your home. Today a lot of companies due to financial reasons prefer to rent an office not in the city centre, but in dormitory area. Look for information on what organizations are situated in your area and think whether you can work there.
In resume you should mention the district where you live. A candidate who lives not far away from office will be considered more suitable for a company. Repeat it one more time during the interview to gain an advantage over other jobseekers (http://resume-writer.net/blog/top-great-questions-to-ask-your-job-interviewer).
Option #2: work at home
If you are not ready or do not want to leave your child, you can chose another approach. We are talking about work at home. Remote job (a specialist is an employee of a company, but works at home), work with flexible schedule as well as freelance are good employment options for young mothers. Advantages of suchlike jobs are already appreciated by a lot of web designers, journalists, programmers and other workers, whose constant presence in the office is not obligatory at all. However, disadvantages of such jobs are also obvious. There are fewer opportunities for career growth, lack of professional communication, and in case of freelance there is an unstable income.
There are a lot of websites on the Internet dedicated to freelance and temporary job search. Stay in touch with former colleagues, probably they will advise you where it is possible to find job that will suit you. Do not forget about the legal side of the issue, i.e. size and terms of work implementation as well as payment should be fixed in a contract.
Option #3: state institution
Organizations, in which overwork is not a life norm, still exist. They are state institutions. For example, some young mothers start working at the kindergarten, which their kids attend.
During the interview answering the question why you want to get this very job, emphasize your professional interest to the vacancy and say sincerely that twelve-hour work is not for you right now. However, you are an organized person and you have time to deal with professional tasks within set working hours.
Probably, salary in state institutions is lower than the average market wages, but at least you can leave your workplace at 5-6 pm, and your boss will treat more calmly your periodic sick leaves.
Few words about the rights
Whatever job a young mom chooses, it is necessary to know that legislation contains a lot of norms that protect hers interests. There is an article that forbids refusing to conclude an employment contract with women due to the reasons connected with children owning. If something similar has happened to you, you have right to demand from employer an official written refusal and appeal to the court.
Working mothers each three hours are allowed to get 30 minute breaks for feeding a child up to one and half years old. Also a woman who has a child up to three years old can be send on a business trip, involved to extra work hours, as well as night hours, and to work at weekends and holidays only with her written consent.
Popular posts:
Best Resume Writing Service: Free From Risk
Adequate Help With Resume Writing Here
Professional Resume Writing Service: Be On Top!
Online Resume Help: Better To Be Safe Than Sorry