Top Ten The Most Extraordinary Jobs In The World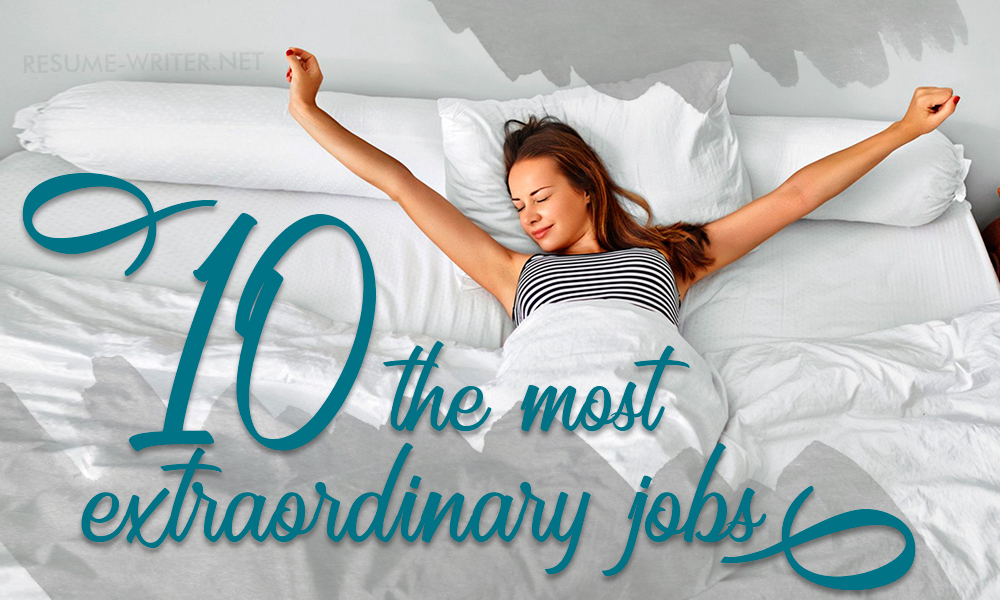 In particular sooner or later everyone starts to search the job. Some people work only because of money, another – because they're fond of this activity and they take delight from the job and money are not so important for them. Usually first of all applicants start from creating a professional resume, sometimes using services provided by online resume companies. Someone goes further and starts looking for different information. That's enough about a search of the job and now we start to speak about the most extraordinary jobs ever.
Also in this section:
10. Professional children's backpack stacker
 It seems to be nothing but nonsense, but some wealthy mothers in New York actually hire this staff. This employee is in charge of equipping a child for the summer camp. First of all their duty is to pack all necessary wear and footwear, but often the list of things that may be useful while spending holidays in the summer camp becomes as long, that it is finished with something like aroma candles and French soap. Is it cunning? That's for "professionals" to decide. You may think I'm kidding, but that's not so funny when it comes to the money which these employees earn (http://resume-writer.net/blog/top-5-personal-effectiveness-strategies). The most highly paid one earns 250$ per hour. It's not funny at all. So, if you are about to apply for these job you may read these article "win job interview with these phrases".
9. Professional sleepyhead
The aim of this profession is to test comfortableness of the bed in the most chic hotels. Requirements to apply for the job are: ability to spend almost the whole day and night lying in the bed and keep a blog about it. As for me, this job only seems to be awesome, but it's really very extraordinary.
8. Cliff diver
Have your ever tried it? From the first glance the height of some cliff may seem not so terrifying, but when you're there, standing on the edge of the cliff it feels like you're standing 100 meters higher the water below. The scene is very impressive, the sun beams reflected by the waves shine the rock, wind is blowing and the view is beautiful. But it's very dangerous, because hitting the water from such a height may lead to broken bones and even death. Professional cliff divers are really brave guys that are traveling over the world and find new placed to dive in strange waters. Some of them are competitive athletes, who earn money participating in cliff diving championships.
7. Iceberg janitor
After Titanic disaster the International Ice Watch was founded. This organization is in charge of patrolling, finding icebergs and warning all the nearest ships about iceberg's location.
This organization also creates safe routes for all the ships depending on the information about iceberg's location collected by their ships. In case when the iceberg in too close to the ship routes it's getting towed to the safe place.
6. Drying paint warden
This job may seem to be awfully boring, but the members of it are disagreed with this statement. While drying the paint may change its structure and shade several times. Specialists observe the process of drying not only with their own eyes but using microscope as well. Companies-manufacturers of the paints state that this activity helps them to learn a lot and to invent new kinds of paints that have less disadvantages comparing with their predecessors. This job is more serious than it seems to be, so maybe you'll need resume and cover letter services online.
5. Professional Hitchhikers
Usually, drivers help them to get to the place of destinations for free, because they're going to the same place. But in the capital of Indonesia – Jakarta "professional hitchhiker" means something else. Streets of the city are very winding and it's very complicated to find a right place. So these people help drivers to reach the destinations fast and easily for some money of course.
4. B-B-Q critic. Full-time job
One man has left his job as an architect and started traveling from one B-B-Q cafes. Then he started traveling from one town to another in a search of perfect barbecue recipe. During this trip he has been keeping a blog and then he was asked to write special articles for the magazine. Now it is a kind job, his blog and articles are very popular, but the flip side of this job is the fact that he has to consume huge amount of meet every day, that's not very healthy at all and even slightly dangerous.
3. Professional criers
People of Taiwan are very serious about keeping their traditions and following all the rules of national rituals. They're very attentive to details and sometimes this pursuit founds very extraordinary professions. The funeral in Taiwan has got some differences comparing with European or American one. In case when the closest relatives have no opportunity to participate the funeral because of various causes they hire professional criers, that cries for the departed. Among the people of Taiwan it's the best way to respect the deceased.
2. Professional scarecrow
It's amazing story but one student graduated from the Bangor University was hired to act as the scarecrow. It became necessary when birds were no more scared of usual scarecrows. So his job is walking through the fields for the whole day and playing his ukulele to frighten off birds. He's paid 250 euros weekly (http://resume-writer.net/blog/a-sober-look-at-the-relationship-employer-employee). The farmer who hired this young guy admits that he's the most effective scarecrow ever.  
The first place goes to…
Junior Lego models creator.One girl from Oxfordshire, Great Britain, applied for this job after winning special event and outplayed all her competitors. Now she is an employee of Lego Company, she has already created 1800 models of Lego constructor.
Few words to finish
So here is the list of the most extraordinary jobs in the world. There are rarely described or even mentioned on resume online resources. Maybe this topic inspires you and you'll get amazing and very unusual job. If not – keep working, interviewing and looking for a better place. Spare your time, ordering professional resume at the lowest cost and try to be always in a good mood.
Popular Posts