List Of Useful Phrases For Winning Interview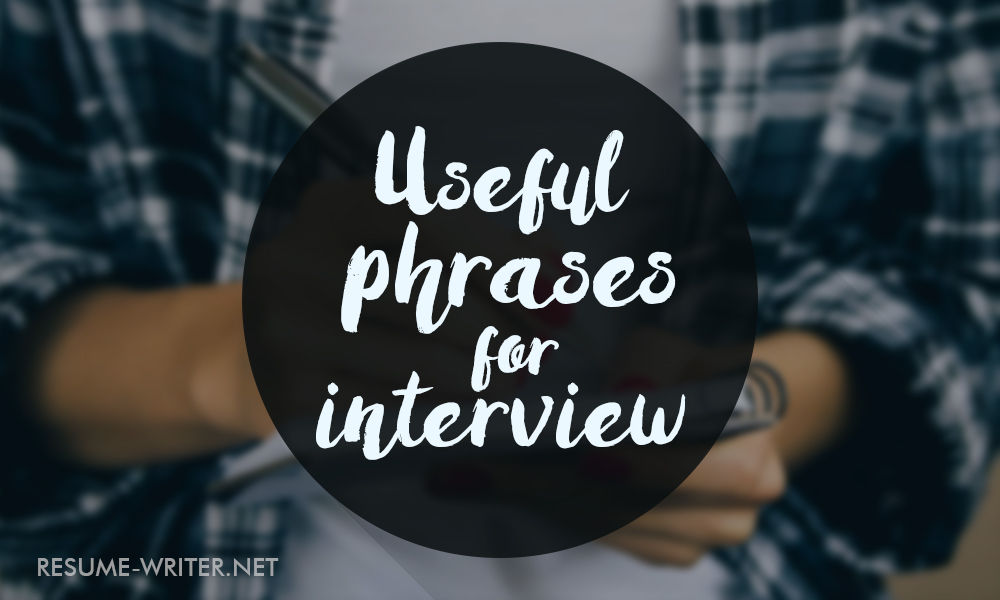 Such a problem as job searching is considered to be one of the most nagging for today. Our lives are flowing in crazy rhythm and one should have a certain set of qualities and skills to not let the life throw him overboard. The today's competition for a good and well-paid job resembles a real battleground, on which super hard fights occur daily.
When a company, for the benefit of which you want to work, is found and your resume has already passed through several stages of processing, you should be ready that you will be called in for interviewing. The closer the day of the interview comes, the more nervous the interviewee feels. This correlation is usual and hardly a person is able to boast of his calmness when he crosses the threshold of his potential boss's cabinet.
How to prepare yourself for a job interview? This problem disturbs nearly every second person in the world. When you are dressed in your best costume and you lift your hand to knock at the door of your interviewer, do not let all the counsels, which you have been given by the experts of Resume-writer.net, be absorbed by capturing feeling of fear. Our specialists know perfectly what to say to impress the employer and which powerful phrases to use to deliver the thoughts properly.
Job interview: Arm Yourself With…
First impression is of extra importance in such a case, so if you let yourself be at a loss for words, tremble like a leaf at the sight of the big boss in a leather armchair, and stumble over a threshold, your chances to land a job will decrease with each new and infirm step into the depth of the cabinet.
Arm yourself with the phrases, which will help you to present your strong sides and avoid talking about your minuses, ask about your salary and express your expectations on this issue correctly. If you keep these phrases in mind and don't let them disappear from your head, you will be able to:
Appear in front of your interviewer at your best;
Communicate about your talents, experience, and expectations freely;
Start the conversation properly and close it on good terms;
Present yourself better than the other candidates;
Prove that you are the one this company needs.
Must-Know Phrases
Are you an interviewee? Use the next phrases to describe yourself:
I was born in …
I graduated from … in …
I obtained my degree at …
I have worked for … years as a …
I have worked for such companies as …
These phrases will help you to describe the post you are looking for:
I want to find a post, which will help me to …
I'm interested greatly in …
Such a job will give me growth as a specialist.
It will be better to describe your profile by using these phrases:
It's not a problem for me to work under pressure.
I work in busy environment and feel no discomfort at that.
I am not afraid of new duties.
I have ability to …
I deal with difficult situations and people perfectly.
I have excellent … skills.
I am considered to be a good problem shooter.
I possess good communicative skills.
I am an organized and punctual person.
I always plan my time.
I have enough self-confidence to take important decisions quickly.
Do you want to tell about your strong sides? Do this by using the next phrases:
I am a great team player.
I am attentive to details.
I am able to perform the tasks in a short period of time to meet a deadline.
The customers' needs are on a priority basis for me.
Multitasking is my forte.
Problematic situations never scare me.
I am self-motivated and goals-oriented.
My management skills help me not to waste time.
Nobody is deprived of minuses. Your task is to present them as milder as possible. Use these phrases for this:
I feel that … is not among my strongest traits.
If I have some problems, I try not to put them on my co-workers.
I am a workaholic.
I become a bit nervous when …
I am able to spend a lot of time on …
Sometimes it is hard for me to …
If you want to land this job, inform your interviewer about this:
I am impressed by the quality of your company's products.
I want your company to be among the leaders and I know how to do this.
This job will give me more opportunities to bring a lot of my innovative ideas into life.
Are you sure that you should be hired? Tell this with the next phrases:
I think you should hire me because…
There are several reasons why I should be hired.
I fit for this job perfectly.
I am sure I'm the best match for this post.
Do you have some desires about the salary? Express them when you are asked about this:
I need more information about the job and the future duties to be able to discuss salary.
I am sure that you will propose a fair salary for such a specialist as me.
My salary expectations are in line with my qualification.
Phrases Never to Start Your Interview With
Apart from the great phrases, which you must past into your speech and use them during the interview, there are some, which are able to bring all your preparations and hopes to nothing. Keep your mouth shut even if your desire to drop one of the next phrases is colossal. Be sure that such a restriction will be for your good.
Do not use a phrase 'I'm not sure what I want to do in my life/ why I chose your company/ what aims I have'. Keep yourself from fouling your previous boss's reputation and calling him bad names. Forget about your desire to start your speech with posing the questions about the wage you will be proposed here and the benefits that you may get from working for this company. Don't dare to say that you have changed several jobs in a short period of time because you hated your colleagues, you started feeling bored, or your company's managers were incompetent people. Such phrases as 'I quitted my previous job because I wanted to relax/ dedicate some time to my private life or something like this' should never fall from your lips.
Have you already built a resume or you want the best professionals to help you with its constructing? Go to Resume-writer.com! You will be rendered all the needed services here and soon you will have the job, of which you always dreamt. Good luck!