Ten Questions To Ask Before Writing A Resume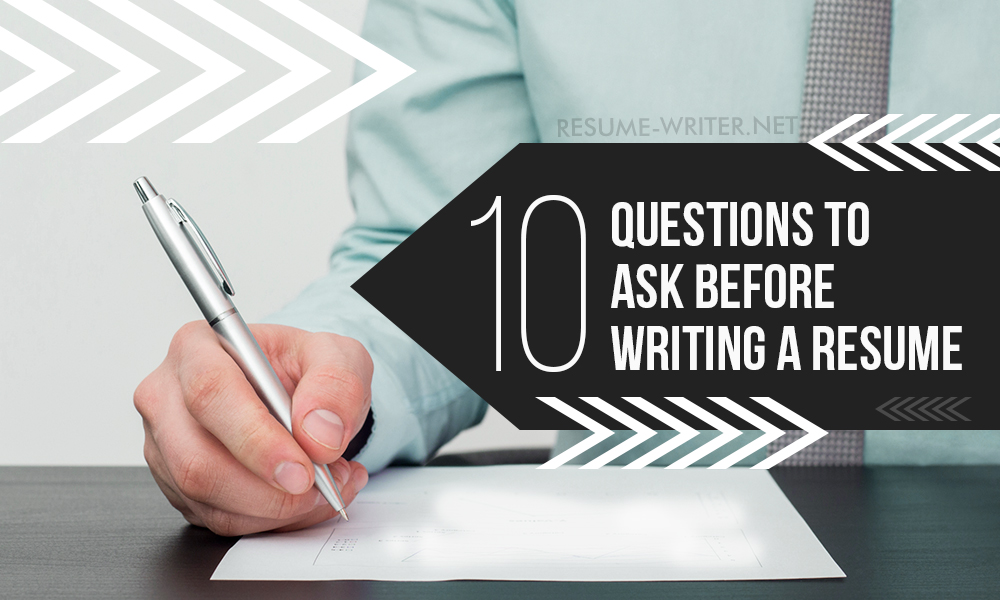 First time writing a resume people often just copy samples that they've found on some web resource and trying hard to keep it similar with that sample. Of course that's not so bad idea, but in order to make a professional resume it's better not to follow an example strictly, but it's necessary to make your resume to stand out and catch one's eye. This information could be found easily on our online resume site.
To lie or not to lie?
Various bloggers and resume writers state that deception in resume is inappropriate in any cases. Literally that's not so cardinal and sometimes you may lie a little, for example if you're sure that you can impress the hire recruiter while interviewing but at first you have to pass the resume contest in all costs. On the other hand you should be careful and as brief as it possible lying about work experience, skill or something else because few unnecessary and inappropriate words could give you away even before the interview. In addition, bear in mind that deception in resume when you're about to apply to some government agency will do you no good anyway.
Look also:
Fix My Resume: Guide For Ideal Image Creation
Custom Resume Service: Avoid Or Make Use Of?
Resume Proofreading Service Engaging: Ultima Ratio
Satisfaction Of Request: Help Building Resume!
Resume Editing Services: Great Piece Of Luck
Short or deployed resume?
There is no defined answer because it depends on what kind of job and in what company you're about to get. But customizing it for the company may give an answer. To get this answer think about the industry of the company, look through their website and pay attention on how they offer their services, how they write vacancy announcements and follow the same style.
Should I add the photo?
Sometimes it's necessary, sometimes it's not. But it's better to postpone putting a photo in the resume if it's not required. In cases when you're applying for a job that's related with media, live people communication or public relations you should add it and don't worry if it's correctly or not.
Customized décor or strict and poor paper?
Being creative and unusual is cool, impressive and memorable. But these qualities are not required by every kind of job, company or industry. Some vacancies are waiting for the person who will follow all the rules relentlessly and strictly. Creative persons are not fond of such an activity and it can lead then to strong psycho disorders. No one, especially experienced hire recruiter won't hire creative and active applicant for such a job. So, remember, that you resume's décor can tell a lot about the personality.
Should I mention all my work experience?
 This question is very interesting to consider. There are two points to discuss. Firstly it's necessary to decide what work experience could emphasize skills and achievement that may give an advantage in the resume contest. Choose carefully because sometimes job which seems to be unimportant and has no relation to the vacancy may tell about your traits like good team player and so on. Secondly, when you're quite experienced adult person don't list all the jobs you've been ever worked, put only that one which brought you success or that's closely related to the job you're about to apply for.
What references might be helpful?
The first and the most important tip to remember that there is no need to add references is you were not asked for this. Don't include them into your resume just for check. When they're required choose them carefully, depending on the job itself.
Should I customize resume for each company?
In attempt to impress the hire recruiter and pass resume contest you can go further and customize the resume not only for industry of the company but depending on the company's features. Visit company's website, check out their mission and try to figure out what character traits are mostly wanted by the company.
Am I fond of this resume?
That's cardinally important. Be as critical as it possible. Rewrite your resume until you'll be fond of it. Imagine you're looking through someone else's paper and you have actually no idea about this person and the only information that you've got is couple pages of the text. If you were trying hard but still are not satisfied with the resume you always can ask for a help with building a resume.
Who am I?
When the resume is finally customized and rewritten, when it looks really good and confidently read it once again, slowly and attentively. Then ask yourself what kind of persons do you see? Maybe you see docile and observant employee, maybe you see creative and ambitious person who can't stand rigor and commonness, maybe you see risky and self-confident one who is not afraid of taking responsibilities and hates being driven by other people. This tip can help you find out in which kind of activities you could succeed with higher chances and it can prevent you from making wrong career path choice (http://resume-writer.net/blog/cost-of-wrong-choice-of-profession).
Would I invite a person with this resume for an interview?
Finally, when you're quite sure this job matches your personality type and befits your ambitions imagine you're acting as a hire recruiter (http://resume-writer.net/blog/how-to-figure-out-what-kind-of-job-matches-you-perfectly). You've got plenty of information about position requirements and you know exactly what kind of person are you need in now. Slip on it. And maybe you'll figure out that something in your resume still need editing.
Take your time
Here are ten questions to be discussed and asked before writing and then sending a resume to the employer. Sometimes seeing urgent vacancy posted by beloved company makes us to hurry with writing our resume. And of course there is no time to lose. So it's better to use our 24/7 proofreader resume online service. If the conditions are very strict and you are obligated to have your resume to be send in a few days our professional resume writing services website can offer you writing a resume in a 24 hours. Eliminate the risk and trust this deal to professional to solve.
Popular Posts
Cover Letter Writing Service: Double Hit
Online Resume Writing Service: Good Start!
Professional Resume Creator: Shine Like A Star!
Professional Resume Writing Service: Be On Top!