Tailoring CV For Different Industry Sectors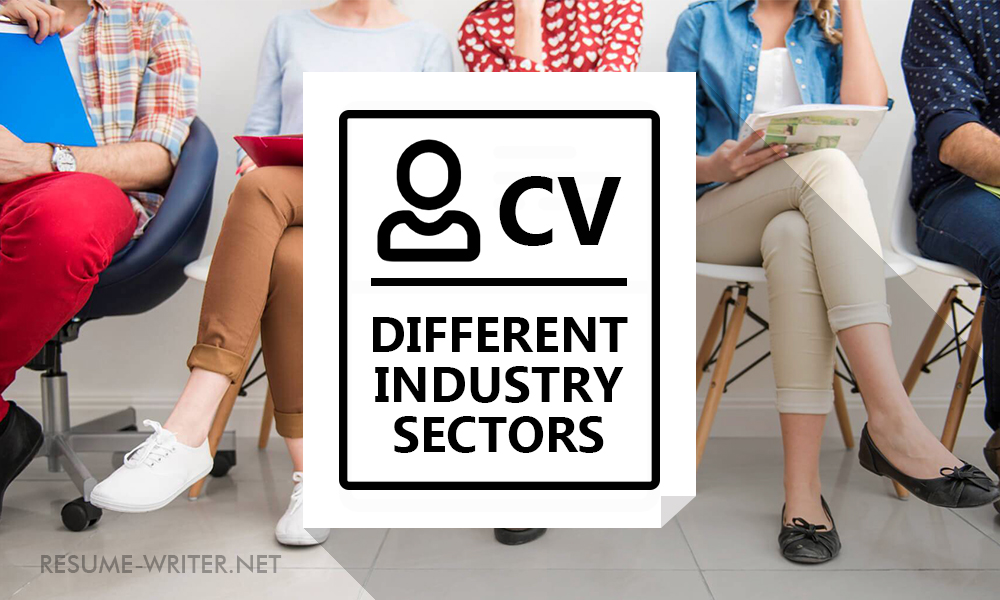 Correct and fast creating professional resume requires strong writing skills and knowledge of how to edit resume for different industry sectors as well. Such an experience is a sign of the certified professional resume writer. The very first thing to realize and remember before tailoring your resume it's that the hire recruiter looks through numerous resume every day. It's very annoying sometimes, especially when your mood is not very awesome. Seeing one and the same bullets, clichés for a long time can drive you crazy a little. Likely, some managers consider resume out of job making it kind of a hobby. It helps to avoid monotony and makes this activity even a little gaily.
Look also:
Custom Resume Service: Avoid Or Make Use Of?
Fix My Resume: Guide For Ideal Image Creation
Resume Proofreading Service Engaging: Ultima Ratio
Best Resume Writing Service: Free From Risk
Adequate Help With Resume Writing Here
Well customized creative professional resume always catches the eye.
Standard resume is appropriate if it's customized for the conventional institutions, like city hall, police department and so on. In other cases there's no need to follow all these gaps and rules and here is the space for creation that may help stand out and grasp some attention.
Variety is a key
The package of applicant's skills wanted by the employer is quite different in various industries (http://resume-writer.net/blog/cost-of-wrong-choice-of-profession). So it is cardinally important to find out and then admit in your resume that skills, that work experience and that responsibilities and duties that you used to be in a charge of which meet industry sector's and company's criteria. So in order to stand out and not to be boring you should create sort of resume template. This document should be brief and pithy. Note only the most impressive achievement and latest work experience. Avoid irrelevant, out-of-date, unimpressive content in order to create some space for tailoring and customizing your resume for each vacancy depending on variety of unique tips and features.
Parts of the resume that can be customized
Previous work experience means a lot. It's impossible to change your work experience but it's quite simple to describe it that way which lets you show that amount of skills you've earned there and that responsibility you were in charge of that an employer is looking for in every candidate. If you're trying to apply for a manager position in order to impress the employer you should emphasis that your previous job required leadership skills, decision making duties and so on.
In case when you're about to apply for a sales agent vacancy would be helpful to highlight your ability to convince the customer, ability to achieve monthly targets. Never forget to include information about how much you've done for the previous company with references to how much you've earned for last month, year or decade, list of customers you've brought to the company.
Hobby
This part of the CV may seem not very important (http://resume-writer.net/blog/should-you-turn-your-hobby-into-a-job). Actually that's true, but sometimes it could help you out in passing through the resume contest. When few applicants with similar key qualities, like work experience, education and skills coming on it's not so easy to choose one, due not only to some unexplainable sympathy for the one candidate but depending on a bit more reasonable factors. Consider this while writing about your passions and hobbies. In order to be appreciated for a manager vacancy try to avoid different boring things, like walking alone through the park, reading huge amount of some dull literature and so on. Emphasis your activities related to the working in team, fast decision making and hard man-to-man struggle, because these are that very traits that are wanted by the employer while looking for an effective manager. Maybe your future boss is not fond of team sports at all, but these hobbies probably make him or her see personal qualities that he or she has been looking for in you.
Information to hide
The first advice is not to include references at all. But in case they're requested there is no way to avoid them. However you're still able to choose what kind of them you should add what you should skip. Be careful selecting references to be added. Keep an eye on are they related to the job you're trying to get. In case if you're applying to for a logistic manager position you may include references from all related jobs you've been ever worked. Truck driver, handler, dispatcher – all these jobs give an experience in logistics industry and it's even an advantage if you've been ever worked on one of these positions. Maybe these jobs are not prestigious but they let know all ins and outs of logistics operations. In addition it could help in communicating with drivers, warehouse workers and others.
Customizing resume for different organizations
Since you've learned how to customize your resume for different industries here is a possibility to go further and customize your resume for every company. Firstly it would be nice to gather and analyze some information about it. It's not a problem at all. Then, try to find out in what way this company will develop in future and what kind of employees are able to bring this idea to life. Then, when you've sketched a picture of the desired employee try to edit your CV that way, which makes you very similar to this perfect applicant. This tip will give you strong advantage before the interview. The next step is to match this description while interviewing.
One chance
In attempt to be invited for the interview you have to impress the employer with your CV.
If you didn't manage to impress the recruiter from the first glance you can forget about this vacancy for a brief period. The stake is too high. So, let experienced professionals eliminate this risk at all. You'll see the result immediately. Of course almost everyone is able to tailor his or her CV that way, which makes it shine, but in order to know how to do it you should get some further information provided by specialized websites.
Popular Posts
Online Resume Writing Service: Good Start!
Cover Letter Writing Service: Double Hit
'Help Making A Resume': Your Appeal Will Be Heard
Professional Writer Resume: Life-Changing Service