Should You Turn Your Hobby Into A Job?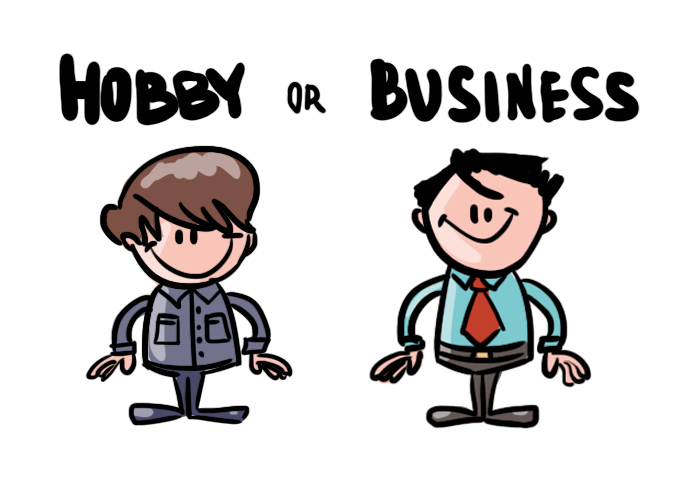 The sensational stories of those, who get total satisfaction from the jobs they are engaged in, always make the listeners take this info in wide-mouthed astonishment. These tales usually sound a bit fantastically! The job that brings not just good money but enjoyment is considered to be not the pervasive phenomenon. If finding of a good income is not an unreal undertaking, selecting of a job of love may take a good deal of time and pains.
If you are a hired worker and there is a long hierarchic chain over you, it is not very easy to increase the incomes, which always seem to be too low. On the contrary, when you work for yourself, a plenty of privileges opens in front of you. The aspect of enjoying the work you do is also plays a significant role when it comes to the income level. It is hardly possible to execute the work well and quickly if you are dead sick of it. There is still a perfect way how to earn some extra money. By turning your favorite hobby into your own money-making business, you will get a luxurious opportunity to generate money twice as quicker and not to suffer from your disinterest in the enterprise you need to be involved in. Online resume service that is the best one among the similar agencies has already chosen the best arguments in support of starting your own business. Although you are burning with a desire to try yourself as an entrepreneur, who is selling his craft and the products he manufactures, you should be aware of the pitfalls that may wait for you on your way to great career.  
By being a self-employed individual, you will release yourself from thousand and one problem of applying for a job. You will never need to break your head over a question how to search for work more productively, what things to remove from resume, and what editing techniques to use to make it impressive. No more sleepless nights in attempts to find the most fitted vacancy, no more senseless attempts to master your skills at great CV compiling (that is an overwhelming task for most of job-seekers by the way), and no more choosing of a resume rater online to bring your poorly composed background to perfection. When you take a decision to turn your favorite occupation into your job, you will stop depending on anybody at all. Sound interesting, yeah?
Let's look through the benefits that your business will give you and compare them with the quantity of troubles, which may fall on your head with a decision to launch a new enterprise.
Advantages Only?
Getting satisfaction from doing your job. Being engaged in a job that brings you colossal pleasure throughout the day and get money for it is the greatest luck that may ever happen to a person. Of course, turning your hobby into a business will require some investments from you at first, though soon your money will return to you in double amount.
Wasting no time on skills developing. You orientate yourself perfectly in your new business so you economize time and inner resources. You are a pro in the sphere you decided to work and you need no extra trainings, no special lectures, and no researching. Every detail is well-known to you so you may start making money immediately.
Depending on nobody. By making your hobby your side business, you may never worry over having any pressure for money. Even if it happens so that you lose your regular job, you will always have another income stream regulated by you and nobody but you.
Establishing your schedule. Having no chiefs will give you a perfect opportunity to decide when to begin your work, when to finish it, and which day to take as a weekend. Don't you have any desire to get up early today? Take a break from work without writing any applications!
Price For Getting Rich
Our certified professional resume writers know the next question, which each cute reader may pose after that. Without waiting for it, we are ready to warn you against the problems that may meet you when you are in the midst of your new vocation enjoying. Here are the potential dangers that may wait for you.
Losing the greatest fun in life. There is no wonder that hobby is the main thing that helps a person to relax after a long and tiresome week and regain his depleted strengths. By turning your hobby into your business, you risk losing the only way of escaping from the reality. Besides, taking into account that it is impossible to imagine the business development without any stresses, disappointments, and falls, your favorite occupation may lose its specific charm and become just another one boring job for you. Well, you need to make your choice.
Becoming a workaholic. As soon as your hobby starts bringing you dividends and not bad ones, you risk diving into your work and spending all your time on helping your capital to grow. Even if such a pastime gives you total satisfaction and makes you happy, forgetting about your family and friends will be a too high price for getting rich.
Being multifunctional. No matter whether you like to be engaged in calculation, composing of business plans, and conducting all the other administrative affairs of your business with no helpers or it pains you, you will be obliged to take all these duties on yourself, especially at the first stage when you have no other employers but you.
Sharing your incomes with the government. Until your occupation is just a hobby, you are free in front of the government. When you turn it into your job, get ready to pay the taxes from the incomes, which you will get from the sales of your products. One more thing for you to take into account: if you are not good at accountancy, it's better to think about hiring a competent accountant ahead. Of course, you will need to pay him for his services, though he will show you the best way how to save a lot of money.
If you are a passionate doer, who can't imagine his life without his favorite occupation, think about turning it into your brand and do your best to make it world-known. Aren't you afraid of the troubles, which may wait for you on your way, and you are still burning with a desire to start your own business? Follow your dream and share your own thoughts with us in our blog. Your story may help somebody to win the battle.