15 Secrets How To Prepare For Job Interview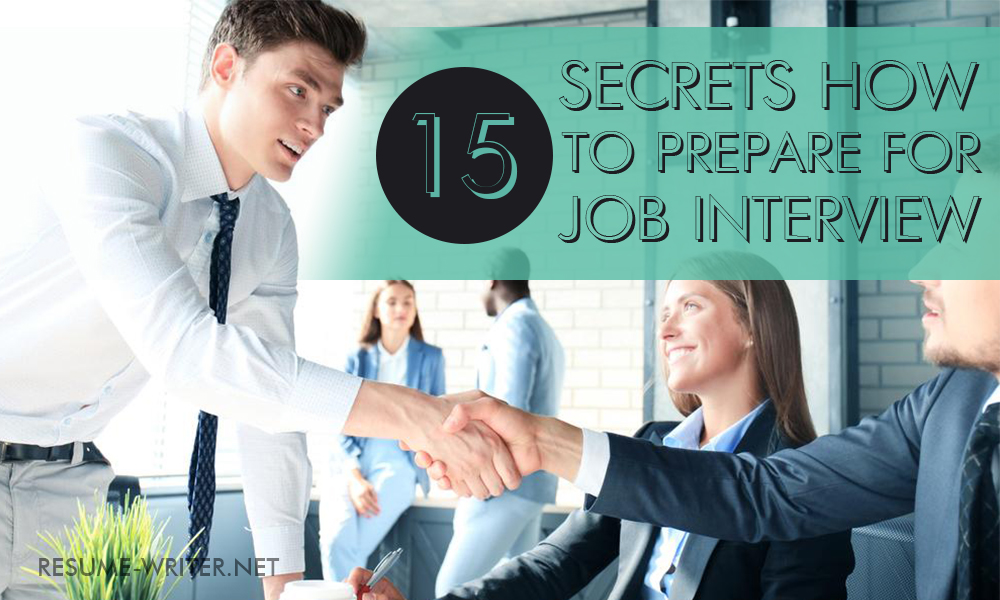 Your resume is ready and it's the very time to think about how to prepare yourself for the next important step. Generally, when the resume caught the HR manager's interest and the candidate is invited for a face-to-face meeting, he loses his sleep and starts thinking about the day of the coming interview with horror. Such an anxious state of mind doesn't play into the hands of a job-hunter. He risks talking a lot of trash, which will leave him with no chance for rehabilitation.
Resume-writer.net is able to release you from anxiety and help you to get the job you are dreaming of. The next hacks will suggest you how to overcome the lack of self-confidence and set your mind on guaranteed victory. Continue reading the post and soon you will know how to show any hiring manager that you are exactly a person, whom he is looking for.
How to Get Job Offer in Your Pocket
The Internet plays the great role in our life. We use it as the global instruction for every aspect of life. We study with its help, do the total cleaning of the house by using the tips that help to make this process easier and faster, we get the recommendations about how to be the better parents, how to bring up children properly, and we follow all the tips that we find here tremblingly. We are pretty sure that great life hacks about the rules of conduct during the first meeting with your potential employers, which are created by our specialists, are exactly what you need now.
Before the day of your interview come, remember that:
Forewarned, forearmed. Get more info about the company, by which you want to be hired. The best way to feel yourself comfortable in a new environment is to know what is waiting for you here. Just Google and several mouse clicks are able to help you to get know everything about the company's corporate style, working hours, staff personnel, and its principal sphere of activity.
Prepare a cheat sheet. Are you afraid that any info may slip out of your mind? Although the data about you have already been presented in your resume, it's better to be ready to answer any question an interviewer may ask you. In order to be able to give a quick and clear response, it's better to take a cheat sheet with you. Write down the main aspects about your past jobs briefly. It will be good to highlight your accomplishments, which weren't mentioned in the resume, too.
Release your energy. Don't you want your anxiety about the coming interview to be transformed into nervous energy? Expend it in the gym or take a cold shower. Any of these manipulations will burn your energy, clarify your mind, and normalize your heart beating.
No anticipation. If you don't want to go deeper into the stressful situation and worry all day long, it's better to schedule a meeting with the interviewer in the morning hours. Spending of the whole day in waiting is harmful for your nervous system.
Make a right breakfast. Do you prefer to start your morning with a cup of strong coffee? On the day of your job interview it's better to break your habit. It has been proved that coffee is a diuretic and it sucks the moisture from your organism. When you are left dehydrated and your mouth is dry it's not easy to make a speech. Moreover, your breath won't be fresh enough to create good first impression. Change a cup of coffee for an apple. It's a perfect alternative to coffee and it will help you to get awaken from sleep.  Besides, such a method has no side effects. Then put the chewing gum into your mouth before an interview. It will help to focus your attention on the coming event and acquire a minty fresh breath. Just don't forget to get rid of it before an interview is started.
Striking a pose is effective. Feet shoulder width apart, hands on the hips, and spine is straight. Just spend two minutes in such a pose somewhere in WC before an appointment with an interviewer and let your body set on getting this job. Breathe deeper and soon you will feel that you are confident enough to show yourself a suitable candidate.
Be friendly. Your job interview begins precisely when you enter the front door of the company, which you want to be employed by. Be smiling and nice to everybody you meet here. Make people remember you and say behind your back, 'What a nice guy!'
Start the interview by talking about anything but the job. As your task is to stick in your interviewer's memory, it's better to show yourself as a nice and communicative person, whom it is pleasantly to co-work with. Make a good conversation about the weather, last sport news, or your impressions from the office. Although you want to connect with your potential employer, don't overdo it. It's an interview, not a meeting of old friends.
It's OK to be a copycat. Any interviewer will respond better to the candidate, whom he sees a fellow soul in. Mirror your interviewer and make mental contact with him. Try to keep your gestures and tone similar to his and build a feeling of utter understanding between you.
Keep calm. Your fidgeting and inability to control yourself may be taken as your disinterestedness in the goings-on or as you tries to conceal the truth. Fix your eyes on the interviewer and show that you are interested in getting of this job.
Be ready to pose the questions. Being an interviewee is not just sitting immovably and answering the posed questions. Be active enough and understand that such a meeting with a potential manager is your opportunity to satisfy your interest about the duties, which you will be responsible for, your role in the company's life, and everything about your potential place of work. Prepare several questions in advance and find appropriate time to ask them.
Close your conversation properly. Your interview is over and it's the best time to say that you are looking forward to hear from the interviewer soon and ask about your next steps. Show that you are interested in the post and that you are really a professional, whom this company is in need of.
Say thank you. Second impression is not less important than the first one. Send your interviewer a small card, in which try to express briefly your thanks for the time that was spent on you. Do this in the first 24 hours after your interview is over and sign it clearly.
Ask to put in a good word for you. Do you have any fellows, who work for a company you want to be hired by? Ask them to say something positive about you to a hiring manager. Such a step may influence your employment positively.
Leave your employer alone. Give your interviewer time to think over your candidature. Don't be too intrusive or even maniac. The easiest way to ruin the whole process of your hiring is to become annoying.
Hasn't your resume created yet? Don't you have enough time to occupy yourself with this? You have a perfect chance to acquire an excellent resume from the best professionals at Resume-writer.net. Start your professional growth rightly!