10 Tips How To Craft Resume Like A Pro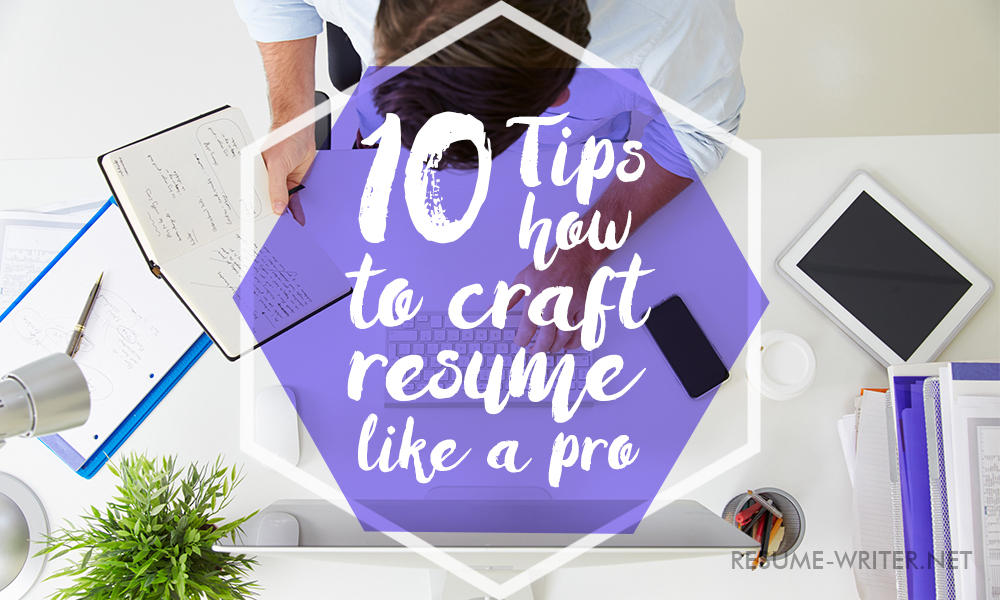 Are you are a desperate job-seeker, who have already sent several resumes and receive no feedback yet? Don't you want the next try to be unsuccessful again? Professional counsels from experienced resume writers will turn you into a super successful job hunter, who may get any post he wants!
Catching of Attention Is an Easy Thing
While composing the resume, every job-hunter pursues just one aim: his CV shouldn't be trashed. Instead of this, it must catch the hiring manager's attention from the first glance at it, make him read it till the end, and invite its sender to the interview at the end.
If you have already found several resume forms on the Net and you are sure that you may obtain success by filling any of them, you should be reminded that not everything is so easy. Heaps of resume samples that are used by job-seekers are boring and weakly composed. Filling of them may distance you from the desired vacancy forever instead of bringing your dream closer to you. It's time to stop wasting your time on pulling your hair out in ineffective attempt to create a bombastic resume!
Perfectly formatted, easy-to-read, and relevant resume is your tool that will help you to outflank the other applicants and hit the jackpot. Stop stressing, take a breath, and start building your CV as if you were a professional resume writer. Are you sure that such a mission is beyond your power? Here is how to do it.
Making Resume a Bomb
Are you ready to set about your resume composing? Get started right now!
Do research. Stop being nervous and get your thoughts together. Find the info about the company, a vacancy of which has already caught your interest. Study its specification, needs, and concept of work. The collected info is able to turn your resume into a bomb! Plan your CV according to the received data and achieve success.
Know the reader. A recruiter or your potential boss himself may fulfill the role of hiring manager, who deals with thousands of similar resumes daily. Try not to waste his precious time and do your best to make him like your CV from the first glance.
Be clear and laconic. Generally, a decision about acclaiming a candidature is usually taken in a couple of seconds after reading is begun. Your task is to make your resume easy-to-read. How to do this? Use short sentences, clear words, and avoid repeating yourself. Following these easy tips will let the hiring manager scan your document quickly and draw a positive conclusion.
Give preference to active voice and active verbs. Triumphant resume is a resume that is filled with strong, powerful, and firm verbs. Such words will add solidity to your candidature and show the reader that you are a person, who knows how many beans make five. Usage of active voice constructions is a winning tactics too. Such a phrase as 'I planned the meeting' creates really much stronger impression than 'The meeting was planned by me.'
Use figures. It is easy to catch the employer's attention by pasting some figures in your resume. Men of business like such an approach. Use numbers, dollar amounts, or percentages to present your main accomplishments. It is a super quick method to make a reader fix his eyes on the most important data.
Divide info into blocks. Make your resume more readable by grouping info about your previous jobs, your skills, and your expectations. Leave more white space between these blocks. Such a trick will help a hiring manager orientate himself quicker.
Size really matters. General size of your resume and the size of font you use in it play one of the greatest parts. If your resume is too long and consumes more than one page, you risk being not read till the end. If the chosen font is below 10 point, a manager may throw it without looking through the info at all.
Choose the best format. Haven't you known that resumes may be of three types? This gap in your knowledge will be liquidated right now. Chronological, functional, and combination are the main types of resumes. Chronological resumes highlight work history, while functional resumes lay emphasis on the skills of the candidate rather than on his previous jobs. If you want your resume to contain both these kinds of info in equal proportion, combination type of resume will suit you most.
Include references. Do you want your resume to be impressive? Add some references from your previous bosses, who may give excellent characteristics to your skills and talents. Don't have any professional experience? Your teacher may become a good referee too. Two comments will be quite enough in such a case.
Ask for another person's opinion. Is your resume writing finished? Don't hurry to send it! Ask your friend to look through it. It will be no surprise that you have committed several spelling errors in it or some sentences are simply charmless. Don't you have anybody, who is able to assist you? Resume-writer.com is able to propose its help to you. The experienced editors will look through your resume body, detect all the typos, and improve your resume's format if it is necessary. Do you want to know whether your CV is attractive enough to make a hiring manager read it till the end? Our specialists will give the professional answers to all your questions! Our editing will make your resume several times stronger!
Your Chance for Success
Do you still feel anxious and can't set about your resume writing? Are you afraid of making any mistakes in it and spoil your chance for success? As the resume is really a deciding factor and it may help you to be hired by a company of your dream, Resume-writer.net proposes you its services for grabbing the hiring manager's attention in seconds. We will build a killing resume for you and arrange your future life so that you will become more and more prosperous day after day. Welcome to Resume-writer.net – a place, where all the job-seekers find their ways to success.