The Biggest Resume Mistakes You Can Make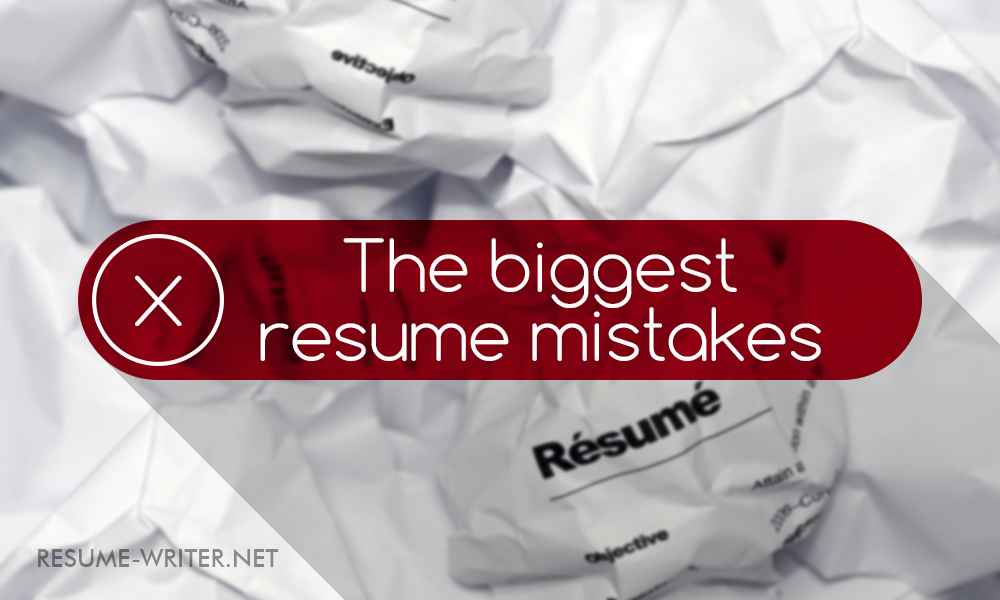 Many job seekers (not only young specialists http://resume-writer.net/blog/student-resume-how-to-make-it-shine) make the same mistakes in resume and after that they wonder why they are not invited for the interviews. Usually common mistakes are made because of mere inattentiveness and carelessness. The most amazing thing is that these mistakes are pretty typical and are repeated in almost each resume despite their obviousness.
In this post on the biggest resume mistakes resume writers of Resume Writer website are going to present the most common ones, which candidates make creating their CV and sending them to employers and recruitment agencies.
Resume mistakes that can ruin your career
Smiles, weird hobbies, heightened self-esteem and other faults allow headhunter to throw such a resume into a rubbish bin.
Let's say you are a perfect candidate: great education, work experience and several foreign languages. However, if you send your resume from email address "prettygirl@..." and make errors in the name of a company, which you are sending letter to, then your career in this company is already finished, and naturally you should not expect to be invited for an interview (http://resume-writer.net/blog/how-to-calm-your-job-interview-nerves). Here is in front of you a list of the errors, which make headhunters throw resume away.
Smile faces
It may seem that smiles can make dry text fresher, but in fact they can only kill it. Smile is a cute symbol. It is a way to express emotions, as well as graphical interpretation of cronyism. Inappropriate and a little bit rude friendliness expressed towards hardly known people, especially when they are older or occupy higher position, is unacceptable.
Skills that have no relation to the vacancy
"Skills to deal with domestic duties successfully", "great clothes taste" or "interest in wrestling" probably have helped you many times in other situations, and you want to talk about them all the time. But, unfortunately, employer is such a person, who is interested only in those skills that can be applied to work. Besides, a paragraph written with passion, right after a dull enumeration of workplaces, shows to employer what interests you the most.
Funny photo
There was a survey, in which participated 300 HR managers and recruiters. It was found out that most of them believe that photo in a resume may be any beyond the bounds of decency. However, these bounds may be different for job seekers and recruiters. So be careful using photo in your CV.
Decorations, flowers and animals
Sometimes, candidates send resumes decorated with ornate pattern or something else. Instead of analyzing the facts presented in a resume, recruiter asks himself: "Why did the candidate choose this very pattern? What is he / she trying to say in such a way? What does it mean?" Not having found appropriate answer inside the resume, recruiter throws it away.
Lie
HR history knows a lot of examples when candidates have claimed that they have knowledge of Antarctic language. Job seekers should realize that any lie sooner or later will be discovered. Besides, professional world is not that big as it may seem. So it will not be difficult to get information about you and your language knowledge.
Grammar errors
We believe that this point is so much obvious that there is even no need to mention it. However, it is better to repeat it once again: grammar errors are unacceptable in any kind of written paper, especially when your career depends on it. There are no excess details when it goes about resume building. Mistakes show inattentiveness, carelessness and small interest to the issue. Such resume goes to a rubbish bin.
Low or high self-esteem
Candidates sometimes mention that they are ready to work for free just because they are so much interested in work. Such a strategy makes recruiters surprised. On the one hand, a free worker is tempting money saving for an employer. On the other hand, employer is going to hire for work a person who does not appreciate himself and his labour. Such a step can hardly make good for a company.
There are also opposite situation: candidates with too high self-esteem offer recruiters to come to their houses for the interview. If you really want to find a job, you should never make such an offer to your potential employer.
Absence of a cover letter
As well as any other person, employer wants to feel that he is the one and unique. You can give him such a feeling by creating a cover letter. It is necessary to define your goals in it, and also show that you want to work in this very company at this very position. Smartly build cover letter is a guarantee that your resume will be read at least. Cover letter sometimes is the only documents that employer will read, being sick and tired of the same types of resume.
Additionally you can read:
Sensation: Resume Services Show New Life Track
Cheap Resumes Buying: Lucky Lottery
Fix My Resume: Guide For Ideal Image Creation
Online Resume Site: Confiding In Resume-Writer.net
Professional Writer Resume: Life-Changing Service
Chaotic state
It is important that resume should have clear structure built according to commonly accepted rules. Recruiter needs to realize whether you are worth to be considered as a potential candidate or not. And your resume is guide for the recruiter that helps to make this decision. It is better to begin with the last place of work. It is recommended to mention the desired position right after the name. Also in the beginning it is better to mention the desired level of wages, your contacts and place of residence.
No word about present
In most cases resume is a demonstration of past without any word about present. However, for an employer it is not that much important where you have come from. It is more important where you are going and what you want to become.
Poor readability as a result of a failed formatting (or its complete absence)
In case of poor formatting your text will be difficult to read. So it is really important to spend some time to make resume "pleasant for eyes".
Contradictions, innuendo
Keep in mind that recruiter does not have time to figure out what you are hinting at. So if you want to say something, do it as much clear as possible. Otherwise, recruiter will not get clear picture of what you are. All the nuances should be specified before the interview, or probably you will not be even invited for it. The best option in this case is a cover letter. And remember that resume itself requires certain corrections.
Absence of functions and even functions
This is one of the most common mistakes. Most candidates do not mention their achievements in resume. And young specialists often do not write what duties they used to perform, and sometimes they even forget to mention the names of the positions they used to occupy.
Shyness
It is very important to present your strengths and achievements, whether they are experience, skills or personal qualities.
Excess details
Job seekers often write something that has no relation to the matter. Resume should be focused and targeted to the limit. Do not prevent your potential employer from looking at you as at a suitable specialist.
Incorrect as well as not full contacts
Check and recheck your contact information for several times before sending resume to any company or employer.
Too big size
Maximum size is three pages, minimum is one full page. The most suitable option is about two pages. Do not torture recruiters with novels devoted to your life path.
Too "heavy" file
Make it sure that sending resume with photo by email your file is not too heavy. The more lightweight it is the better. Respect your potential employer and do not overload their communication channels.
Unsuccessful attempts to make resume unusual
This one is among the most ridiculous mistakes that can be met in a resume. There are so many various methods that job seekers use to stand out of the crowd. In such a way they only make HR managers laugh. So be careful with suchlike things. The best thing you can make is to create competent resume. Professional team of our online service is ready to give you any assistance on this issue.
Sending several resumes (of your friends, for example) in one email
This is a very bad decision. However, some job seekers make it. We strongly recommend to avoid such an unwise action.
Sending resume in archive form or an unusual format
Any extra action that a recruiter has to make to see your resume reduces the chances that he will do it. Besides, different "exotic" programs may not be installed on his computer.
Sending resume to several employers in one email
Keep in mind that your letter with resume should be personal. If employer sees that you send resume to several companies at the same time it means that you do not care a lot where to work.
Now then, these are the most common resume errors. In fact, they are much more, because job seekers are very "creative and original". Almost everything mentioned above is about resumes that are placed on work search websites. So please, be very attentive building resume and filling in your data using special forms on recruitment online services.
Read other popular posts in this section:
Resume Editing Services: Great Piece Of Luck
Rate My Resume: How To Avoid Deception
Satisfaction Of Request: Help Building Resume!
Resume Services Online: In Search Of The Best One