Stop Procrastinating Your Work Or Start Making Use Of It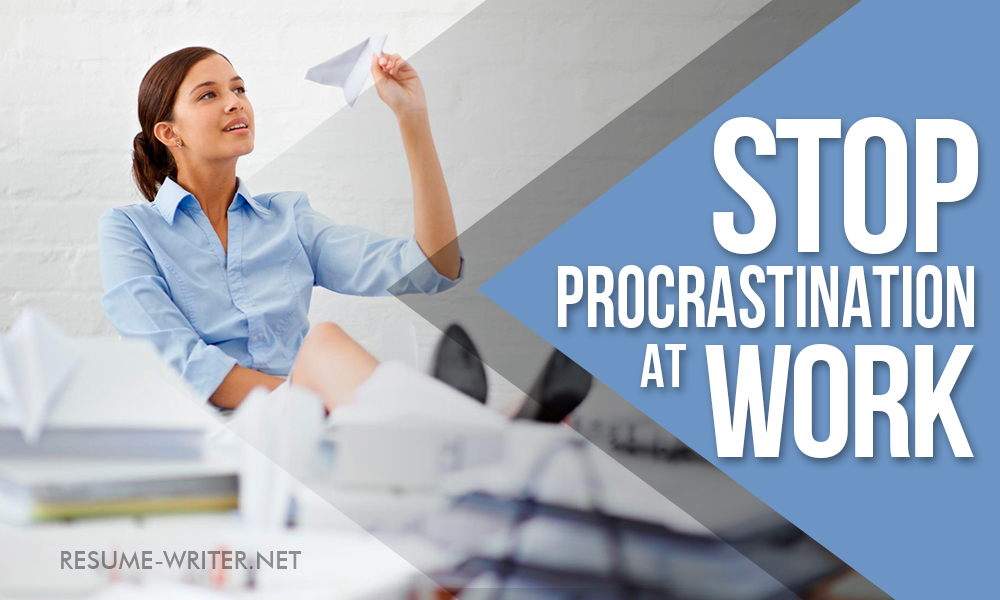 Quick recipes to fight procrastination
Is time catastrophically passing by? You can not make yourself start working, can you? Everyone of us sometimes faces suchlike situations. In order to cut the Gordian knot, our executive resume writers have gathered twelve simple tips on how to deal with procrastination and complete important tasks.
1. Ask yourself "What do I do this for?". Find meaningful aim. Think it over, whom your work may be useful to, what meaning it has for your career or company you are working at, how it may help other people and so on.
2. If a task seems monotonous, try to change the style of its performance, demonstrate fantasy, making your work more interesting in such a way.
3. Create a to-do list for each day. Sometimes work list itself pushes us to finish our tasks without postponing them. Seeing what is already done and what still needs to be done works better than mere thinking about tasks.
4. Make up an encouragement as a reward for certain period of concentrated work performance.
5. Try to work in cycles. For example, you may try techniques of time management introduced by different experts in this field. Thus, there will be changes of work and break periods.
6. Divide a task into the smallest steps, which you need to fulfill. Look at each task not as at a large and complex project, but as a set of small simple tasks.
7. Hide as far away as possible everything that can distract your attention. For example, close all networks, hide your phone and so on.
8. Set mini deadlines for each task or each stage of a big task. It is easier to cope with mini tasks and mini deadlines, rather than with trying to be in time fulfilling one huge task.
9. Put on headphones to focus on work and to shield yourself from noise or talks in office.
10. Plan something interesting or amusing on free time after work. It will motivate you not to postpone and finish your work in time.
11. If procrastination overcoming does not go well, spend this time with use. Perform some small organizational work. For example, put the mail or desk in order, write a letter of politeness, which you have been postponing for a long time and so on.
12. Tell someone about your task. Saying it out loud, you will manage to find more successful ways of solution, look at it from different new side or get useful advice. As a result, difficult task that causes anxiety will not seem that much impossible any longer.
It is already tested and proved that if one starts using and implementing these tips right now, chances to achieve great results increase several times. If you are reading this post, it means that first steps to procrastination overcoming are made. Thus, you have become closer to solution of this common problem and naturally closer to success. However, if nothing works, whatever you try to do, do not force yourself. Maybe, work you are occupied with now is not what exactly you need. Remember, that it is never too late to find your calling. Also, keep in mind that sometimes new job can help to recover. So, think it twice.
In addition, read following related posts:
Custom Resume Service: Avoid Or Make Use Of?
Online Resume Site: Confiding In Resume-Writer.net
Satisfaction Of Request: Help Building Resume!
Professional Writer Resume: Life-Changing Service
Rate My Resume: How To Avoid Deception
Useful procrastination: 10 ways to postpone wisely
Sometimes procrastination is just obligatory. We by all means try to find ways to postpone work at least for a couple of minutes. Experts of our resume creation online agency Resume-Writer.net have found ten options of how not to waste this time, but spend it wisely.
1. Write a personal letter. Remember a person, relationships with whom you appreciate, but with whom for example you have not been communicating for a long time. Write him / her email. It will help to maintain communication and close relationships simultaneously.
2. Create your own collection of useful links in case of procrastination. Have a collection of links about things that interest you. The next time, when your brains "demands" to shirk from your tasks for several minutes, these links will help you to learn something new and useful.
3. Choose subject, which you are not aware of absolutely, and start studying it.
4. Write about work, which you postpone or avoid all the time. Open Word or take a pen and a sheet of paper and write down, which task you are avoiding. If you are avoiding it because you have "stuck" on it, then probably you will find new methods to solve it. In addition, this is a great way to think over the task without working on it directly. Additionally, while procrastination, you can think about how to express yourself in work. It may help you to have a rest at work even during the most tensed and stressed hours.
5. Practice speed reading. Trust us, this is a very useful skill.
6. Write ideas to your employer, about which you want to tell long time ago. People always lack time to do this. However, if you have ideas on how to improve work in team, which you would like to share, use this time to build such a letter. It may also help you to get promotion, for example, or not to lose job. However, if you feel that you are about to be fired, read our post "Saving A Job When You Feel Boss Is About To Fire You": http://resume-writer.net/blog/saving-a-job-when-you-feel-boss-is-about-to-fire-you.
7. Talk with and really listen to your colleagues. Train your skills in focusing on conversation and listening to interlocutor.
8. Analyze the way you write letters. Read your basket of sent letters and look with fresh eyes whether your letters really reflect what you want to say.
9. Start your "achievements list". Write down all achievements you have. Thus, you will realize what connection they have, and consequently it will be easier to sort out your goals.
10. Write thankful letter. This is another thing, which people always never have time to do. Remember, whom you would like to gratitude and write brief sincere letter. This will cheer up and probably inspire to return to work with new powers. Our post "Thank-You Letter: To Send Or Not To Send?" will give useful advice on thank-you letter building: http://resume-writer.net/blog/thank-you-letter-to-send-or-not-to-send.
These little steps may not look significant, but in fact they are really effective. Adding them to your life one by one, step by step, you will not even notice how your life will start getting better. Stress and worries will go out of your everyday schedule, instead you will get personal satisfaction, approval of employer along with much free time, which will be saved in case of procrastination stop. Given tips are tested by specialists of our online service on resume creation and processing, so we can confidently claim that they are really working. Leave all doubts, stop procrastinating now and begin bringing to live everything you should have done long time ago. We believe you can do it. Remember, everything is easier with professional help, so order professional resume editing on our site in case of need.
Other popular posts in Resume-Writer blog:
Cover Letter Writing Service: Double Hit
Sensation: Resume Services Show New Life Track
Online Resume Help: Better To Be Safe Than Sorry
Resume Services Online: In Search Of The Best One